This scholarship is given annually to one qualified student. The intention of this scholarship is to assist the recipient in finishing their final year in college or university, and may be applied by the student toward tuition or school-related expenses. This scholarship is based upon merit. All are eligible to apply, provided they meet the stated criteria.
If you are interested in contributing to the NWGMA scholarship fund, please send check or money order to:

NWGMA Scholarship Program
2540 NE 92nd
Seattle Washington 98115
2014 NWGMA Scholarship Recipient, Jade Richardson
Jade Richardson, a fifth-year senior at Simon Fraser University (SFU) in Burnaby, B.C., has been selected as the recipient of the 2014 NWGMA Scholarship, which is given annually by the Northwest Golf Media Association.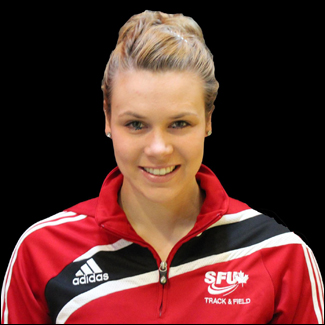 Jade Richardson, recipient of the 2014 NWGMA Scholarship
Richardson, 22, will be receiving $2,500 from the NWGMA. She will be formally given the scholarship at the 15th Annual NWGMA Banquet, which will be held October 7 at Chambers Bay in University Place, Wash., site of the 2015 U.S. Open.
NWGMA President Tom Cade said, "Jade got the nod over some other viable applicants. One thing that caught the eye of our committee was her already strong background and commitment to sports journalism, her success as a student-athlete, and her goal of continuing in the sports journalism field."
A native of Nanaimo on Vancouver Island, Richardson works as a communications assistant in the sports information department at SFU, with her major duties being writing press releases for all SFU's varsity sports including men's and women's golf. She also writes weekly articles on sports for The Peak, the school's newspaper, with her work being picked up by Canadian University Press Newswire and the Vancouver Sun newspaper. She also provides live play-by-play commentary for the university's sports televised broadcasts, and produced a four-part video series on SFU's women's basketball program.
"I would love to become the sports editor or sports columnist of a newspaper, or remain in sports information at the collegiate level," Richardson said. "I plan to remain involved with the sports broadcasting at SFU after I graduate, as I am passionate about providing a great experience for fans."
Attending SFU on a track and field scholarship, Richardson was a student-athlete through her junior year and is now working on completing a double major (in Communications and French). Simon Fraser University is a member of the NCAA Division II Great Northwest Athletic Conference (GNAC), and Richardson is a two-time GNAC discus champion, making it to the discus final at the 2013 NCAA Division II Championships. Richardson works as a wildfire dispatcher during the summer.
The scholarship is open to all students who are entering their senior year at a Northwest college or university and who have demonstrated an interest and ability in sports journalism. The scholarship is posted at four-year institutions in Oregon, Idaho, British Columbia and Washington.
Jeff Shelley, co-founder of the NWGMA and current treasurer for the organization, said of Richardson's selection: "Jade Richardson is the first Canadian and first female student to receive the grant from our organization. Since entering Simon Fraser's communications department, she's combined her strong interest in athletics with considerable ability and personal motivation to write about 17 sports offered at the university. She's certainly one of the most highly qualified applicants ever for the scholarship, and I'm quite proud of her being our 2014 recipient."
"This is the third year we've given a scholarship," continued Cade. "We see this as part of our organization's mission to encourage and assist media coverage of golf, and sports in general, in the Northwest and we're pleased to give it this year to Jade."
The majority of funding for the NWGMA Scholarship was arranged by NWGMA members John Tipping and Owen Hoskinson, who own and operate the Seattle Golf & Travel Show and the Vancouver (B.C.) Golf & Travel Show. They converted the silent auction at the Seattle show into a fundraiser for the scholarship, with one hundred percent of the proceeds going toward the students. "Their generous donation has made this scholarship possible," said Cade. NWGMA members also make cash contributions toward the scholarship, as well as procure items for the auction.
The NWGMA traditionally hands out its annual awards at the year-end banquet, held each fall. In 2014, the banquet will be held October 7 at Chambers Bay in University Place, Wash., site of the 2015 U.S. Open. Along with the scholarship, the NWGMA will hand out at the banquet its Distinguished Service Award, given annually to a media colleague, and its "Local Legend" awards, given to those who have made significant contributions to the region's golf community. Recipients of these awards will be announced prior to the banquet. For information about the banquet on October 7, call 206-890-5339.
The Northwest Golf Media Association consists of over 125 golf media and industry professionals in Oregon, Idaho, British Columbia and Washington. It is a 501c7 non-profit organization that was founded in 1995 to assist the coverage of golf in the region.