Local Legends
This honor was created to recognize those who have distinguished themselves as players or for their overall long-term involvement with the golf community of the Pacific Northwest.
---
2015 Honoree
Steve Kealy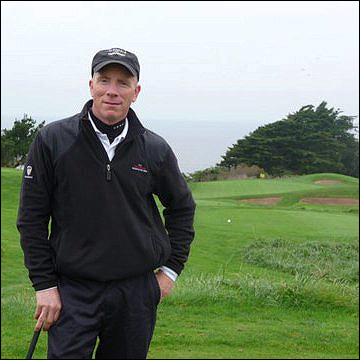 Steve Kealy
Steve Kealy began his career in golf as a caddie at Seattle's Broadmoor Golf Club in 1972 and has since gone on to become one of the region's most respected golf course superintendents. In 1987 he earned his BS in Agronomy from Washington State University, and has been the golf course superintendent at Glendale Country Club in Bellevue, Wash. for over 25 years.
He is currently serving on several golf industry boards that include the Northwest Turfgrass Association, Western Washington Golf Course Superintendents Association, and The First Green Foundation. Since 2000, he has hosted over 100 field trips to his golf course to teach schoolkids hands-on environmental education through the First Green program, and serves as a mentor to golf course superintendents and clubs in setting up their First Green field trips.
Kealy serves numerous hours of community service, donating his time and talents to educate local area high school students on agronomic and environmental issues, and is a community volunteer for schools going to Glendale for field trips and when he goes to schools to judge science fairs and serve as a high school environmental program advisor.
Kealy is a past recipient of two national awards from the Golf Course Superintendents Association of America (GCSAA), the Excellence in Government Relations Award and the President's Award for Environmental Stewardship.
---
2014 Honoree
Ken Still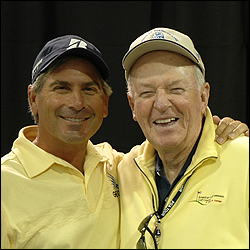 Fred Couples and Ken Still - former Ryder Cuppers from the Pacific Northwest
Ken Still spent 22 years on the PGA Tour and Champions Tour. He won three tournaments - the Florida Citrus and Milwaukee opens in 1969, and the Kaiser Invitational in 1970. He was in the top 60 on the tour money list for eight straight years, from 1966-73. His best year as a touring pro was 1969, when he qualified for the U.S. Team in the 1969 Ryder Cup at England's Royal Birkdale Golf Club, an event that became famous for Jack Nicklaus' concession to Tony Jacklin on the final day.
Ken won the Washington Open in 1966 and played in the Hudson Cup in 1983 and 1984. He played on the Champions Tour for 11 years. In 1995 he was inducted into the Pacific Northwest Section PGA Hall of Fame.
A big sports fan and a big fan of sports media coverage, Ken rarely has any concern over coverage of his own career, and would rather make sure up-and-coming golfers get their share of the coverage, and that the public as a whole knows all about golf in the Northwest. His continued mentorship of the region's players and concern for their careers has made him a recognized figure throughout the golf community.
Ken has also been instrumental in the success story of American Lake Veterans Golf Course, playing a huge role in getting his friend Nicklaus to donate his design skills for the course's second nine holes.
---
2013 Honorees
Mary Lou Mulflur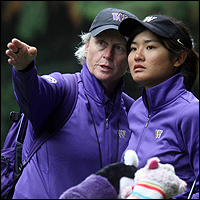 Mary Lou Mulflur is being honored as a "Local Legend" for her 31 years, and counting, as head coach of the University of Washington women's golf team, where she has led the Huskies to 20 consecutive NCAA regional appearances and nine trips to the national championship tournament. The Huskies were ranked No. 1 in the nation last fall and are in the top 10 this year.
Mulflur, daughter of retired Portland Journal sportswriter Bill Mulflur, was a two-time Oregon state high school champion at Portland's Grant High School.
The 1975 winner of the Oregon Girls' Junior Amateur was a four-year letter winner for the Huskies under coach Edean Ihlanfeldt and was one of the first women at the UW to receive an athletic scholarship. She has an established reputation for successfully guiding the collegiate careers of young student-athletes - the graduation rate for UW golfers under Mulflur has been outstanding, and recent UW alums on the LPGA Tour include Paige Mackenzie, Louise Friberg and Jennifer Stapleton.
"I knew Mary Lou's father, Bill, before meeting her," said NWGMA treasurer, Jeff Shelley. "Bill helped greatly with my 'Northwest Golfer's Almanac,' contributing photos from Oregon Journal's archives. Later, I often ran across Mary Lou at Sand Point Country Club, where the UW women's golf team practices and we'd always have a chat. Her receipt of the NWGMA's Local Legend award is well deserved."
One of the nicest and most modest people in local sports, Mulflur was recently named to the Women's Golf Coaches Association Hall of Fame.
George Jonson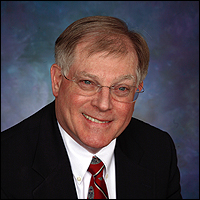 George Jonson's selection as a "Local Legend" is long overdue. He is best described as a person who for decades has been an invaluable, behind-the-scenes resource for the Northwest golf industry, helping organizations such as First Green and the NWGMA secure nonprofit tax status.
The accountant from a prominent Northwest golf family led the effort to prevent the state from adding a tax to membership dues in the mid-1990s, which would have been a severe blow to struggling clubs. In the last decade, he led the fight against taxing donated rounds of golf, and charities and golf fundraisers of all kind that stage benefit tournaments, and high school golf coaches everywhere, were among those owing a large debt of gratitude for his efforts that enabled them to continue their programs.
"George was very helpful to me during the early years of the NWGMA, helping us get 501(c)7 nonprofit status with the state and IRS," said Jeff Shelley, NWGMA co-founder and treasurer.
For many years Jonson has served on boards of the Pacific Northwest Golf Association and Washington State Golf Association. He is chairman of the centennial celebration of Seattle's Broadmoor Golf Club. Jonson is the son of the late Ernie Jonson, who along with his brother Carl, who died in 2008, were pillars of amateur golf in the Northwest, credited with carrying the PNGA through the 1960s and 1970s, and both are members of the Pacific Northwest Golf Hall of Fame.
George played golf at Bellevue (Wash.) High School and later won a conference championship at Seattle University after serving in the Navy in Vietnam.
---
2012 Honoree, John Harbottle III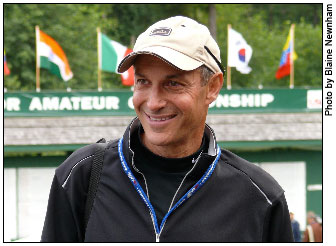 John Harbottle III is the 2012 Local Legend honoree
John Harbottle III is being given this award posthumously, having passed away suddenly on May 24, 2012 at the age of 53. A native of Tacoma, Wash., Johnwas a golf course architect who trained under Pete Dye but went on to easily forge his own name in the design industry for his remarkable variety of highcaliber layouts, such as the Olympic Course at Gold Mountain in Bremerton, Wash., BanBury Golf Course in Eagle, Idaho, Juniper Golf Course in Redmond, Ore., Palouse Ridge in Pullman, Wash., as well as numerous renovations. His work received accolades for environmental sensitivity and design excellence bythe Audubon Society and Golf Digest, making him one of the top rated golf course architects in the country.
He was on the board of the American Society of Golf Course Architects, Tacoma Country and Golf Club, and The First Tee of South Puget Sound.
Generous with his time, he was a guest speaker at a few NWGMA meetings, most recently on May 7, just weeks before his untimely death, when he spoke to thegathered media about his renovation of White Horse Golf Club in Kingston, Wash.
Harbottle was the eldest son of Pacific Northwest Golf Hall of Famers John and Pat Harbottle.
He was a gentleman of integrity, fairness and kindness. The golf community will miss him, but will continue to enjoy the legacy he left behind, whenever weset foot onto one of his beautiful course designs.
---
2011 Honorees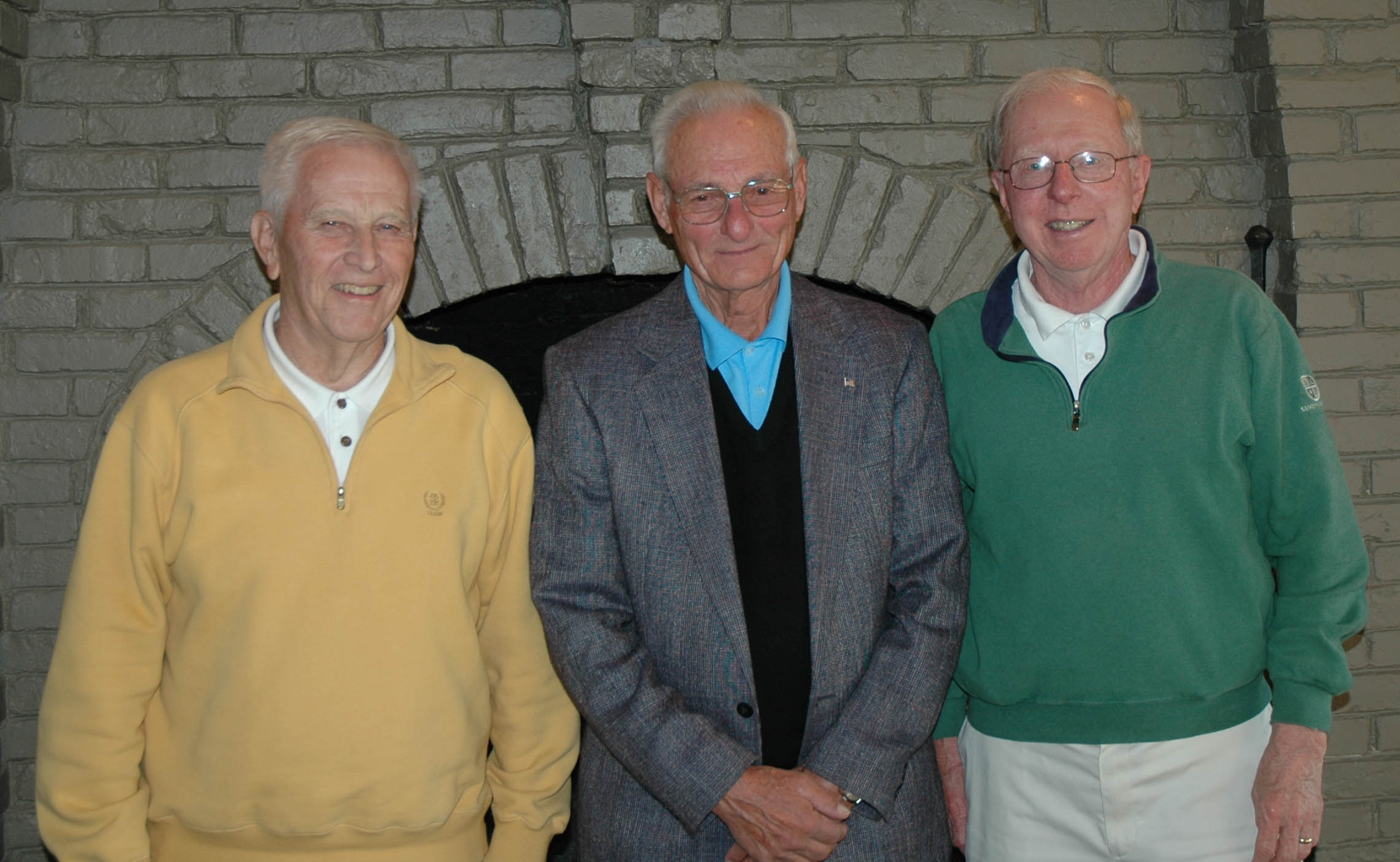 (2011 "Local Legend" honorees are Kent Myers, Loren Lippert and Jerry Fehr, left to right.)
Jerry Fehr
Jerry Fehr, a Seattle native, has been executive director of the Washington Junior Golf Association for more than 18 years. He was the 1961 Washington Open champion, winning the title in a playoff with future PGA Tour player Kermit Zarley. Fehr, 78, has won 20 club championships at Sand Point Country Club and has shot his age every year since he was 65. He is the father of Rick Fehr, former PGA Tour player.
Jerry, 78, graduated from Ballard High School, where he was two-time Metro League champion and went on to be captain of the Yale golf team. He served as a naval officer on an aircraft carrier after graduation then wound up in the insurance business, retiring as chief financial officer of Family Life Insurance.
Kent Myers
Kent Myers, who lives in Lake Oswego, Ore., is one of the region's most decorated amateur players. He won the Oregon Amateur four times, the PNGA Master-40 Amateur once, the PNGA Senior Amateur once and played on 19 Hudson Cup teams and was captain 18 times. He was the captain of last week's Senior Hudson Cup team. No one in the 70-year history of the Hudson Cup has played in the event more times than Myers. He was inducted into the Pacific Northwest Golf Hall of Fame in 2001.
Kent is in the Willamette University Athletic Hall of Fame, has a doctorate from Stanford, and enjoyed a distinguished career as an Oregon school administrator. He wrote the book, Golf in Oregon (first printed in 1977), as well as two poetry books, the most recent one published this year.
Myers also is known for the behind-the-back putting style he occasionally used in competition. He would hold the club behind his back and the head of the putter would extend between his legs and he would hit the ball positioned in front of his toes.
Loren Lippert
Loren Lippert is a retired Salem postman who has played 312 courses in Washington, 228 in Oregon, 94 in Idaho, 24 in Montana and hundreds in Canada. His worldwide total is 1,296.
"I'm an oddity, a golf nut," Lippert said. "To me, no two holes are alike, no two courses are alike."
Loren has been a valuable resource for Northwest golf writers. He also served the sport as a member of the rating team for the Oregon Golf Association for six years.
Lippert and Myers were classmates at Salem (now North Salem) High School, class of 1960.
Lippert's handicap index was once in the single digits but he has always considered himself a recreational golfer who enjoyed courses and camaraderie more than formal competition. This Northwest golf course encyclopedia has this advice to fellow golfers who want to get the most enjoyment from courses and the sport: "Walk whenever you can."
---
Bob Spiwak given 2010 NWGMA Recognition Award
Since 2010 marked the 15th year for the NWGMA, at the annual NWGMA Tournament & Banquet, held October 18, 2010 at Everett (Wash.) Golf & Country Club, the NWGMA members gave a Recognition award to Bob Spiwak, one of the co-founders (along with Jeff Shelley) of the NWGMA. The award was a surprise to Bob, who had made the trip to the event from Mazama, on the other side of the Cascade range.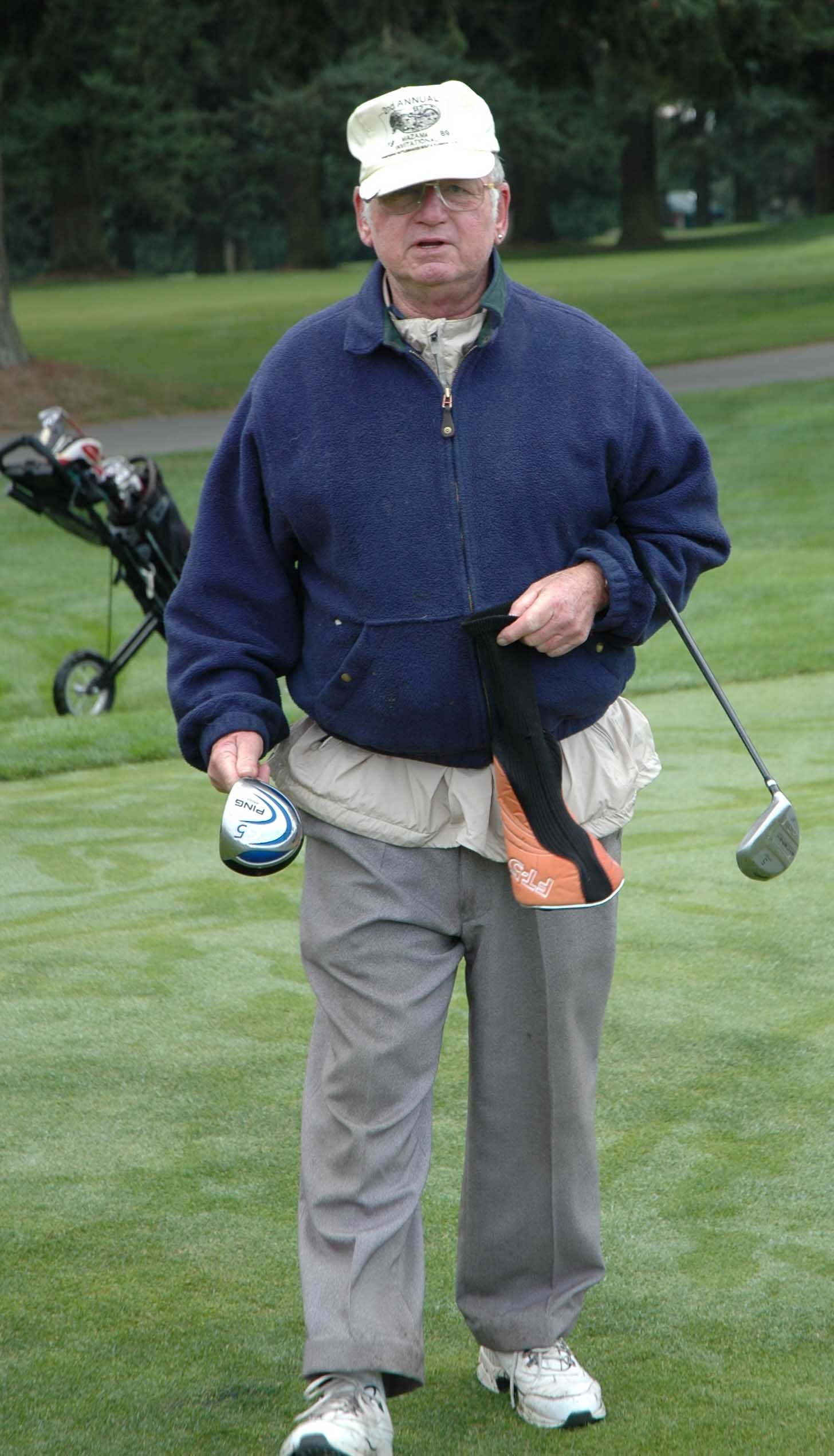 On the crystal award given to Bob at the banquet was inscribed these words:
"One of the founders of the Northwest Golf Media Association whose foresight, love of Northwest golf, outstanding writing and enduring humor has seen the association grow from a simple idea in his backyard pitch-and-putt to a region-wide community of media colleagues, celebrating its 15th year of existence."
Bob took up golf in 1953 as a respite from the rigors of selling bibles door-to-door in North Dakota. Though suffering a four-year lapse, he's back to being a fanatical golfer. Now a contributing editor for Cybergolf, Spiwak has written articles for almost every golf magazine in the Western world. In the Northwest, Bob has written for various magazines, including Back Nine, Pacific Northwest Golfer, Cybergolf, as well as many national publications. Bob's most treasured golf antiquity is a nod he got from Gerald Ford at the 1990 Golf Summit. Spiwak lives in Mazama, Wash., with his wife and several pets next to his fabled ultra-private Whispering Rattlesnakes Golf & Flubbers Club.
The day after receiving the award, Bob wrote this note to the membership at large:
For Jeff Shelley, Tom Cade and members:
I am sitting staring at the frosty first green of Whispering Rattlesnakes Golf Club, still somewhat overwhelmed by the award given me on behalf of the association yesterday in Everett. Considering the moment, my "You Love Me, You Really Love Me" proclamation was a takeoff on Sally Fields' Oscar award years ago and still mocked by comedians. For me to do so at that moment was probably inappropriate, and I offer my apologies to the membership, especially Tom and Jeff. Frankly I was flabbergasted at the moment and the Sally parallel was what came to what is left of my mind.
I am so gratified to get the award, and appreciative, yet I feel I am not deserving of it. This is not an "Aw-Shucks" humble statement because as I touched on yesterday, all credit ought be give Jeff Shelley who really did all the work. I hope he has gotten proper recognition at some past NWGMA convocation. Much like two architects who agree on a design, and one of them is also the contractor who spends the time and expends the labor to bring the edifice to completion.
It is certainly more incentive to attend meetings. However, I am smitten with limitations of senility, geography, semi-blindness and freeway phobia, which determine where I go.
Anyhow, I do want to thank all involved again and hope to see you again.
Quite sincerely,
Bob "Bunkerputter" Spiwak