The NWGMA seeks to bring attention to the region's golf heritage, and it hopes everyone in the media gives golf equal status with other sports. It also strives to educate the community about all facets of the golf industry and what each entity brings to the game of golf. Its members facilitate this by creating a network among colleagues for sharing story ideas and creating a community for discussing and disseminating Northwest golf news.
The Writers' Tee
News and Notes of the Northwest Golf Media Association
October 2020
NWGMA Members Enjoy Sand Point CC's "New" Course
The NWGMA took a unique early look at the grandly refurbished Sand Point Country Club in Seattle. Jeff Shelley, a co-founder of the NWGMA and a member at Sand Point since 1993, orchestrated the Oct. 22 lunch meeting and round at Sand Point. Shelley was assisted by his wife, Anni, the organization's managing director, and NWGMA president Bob Sherwin.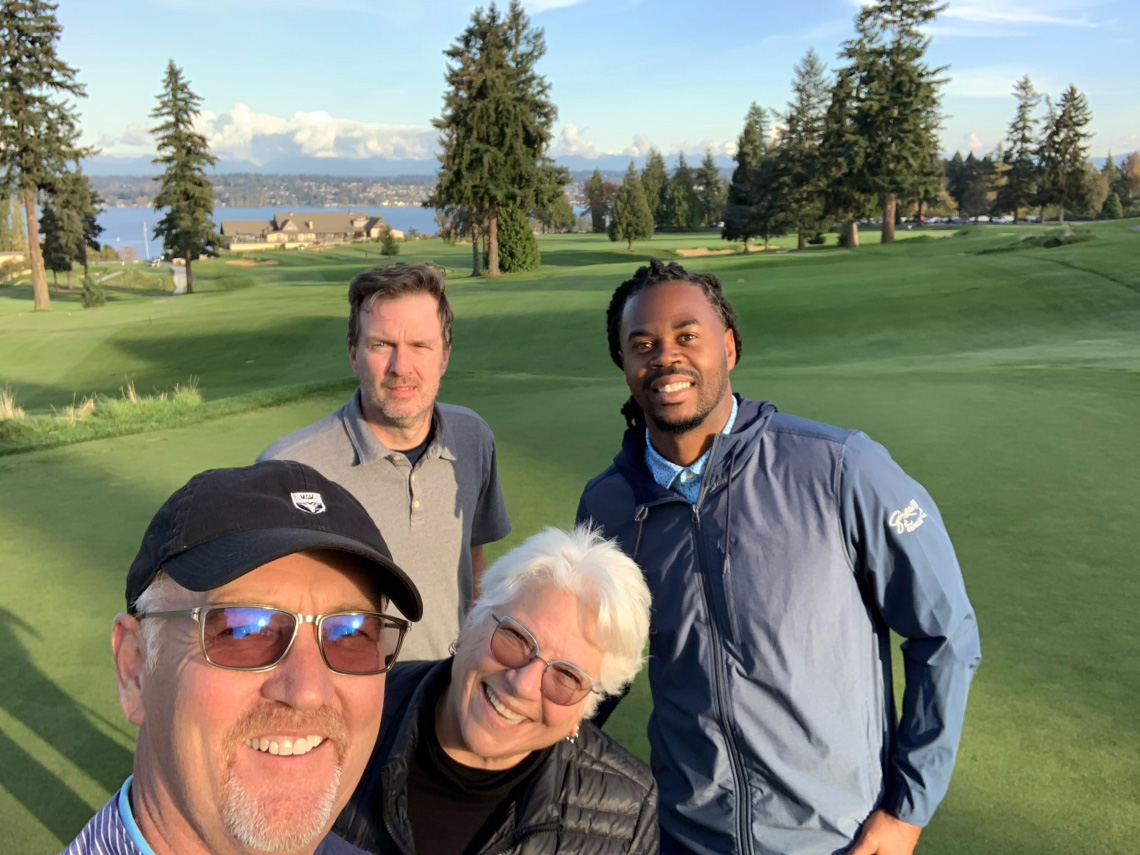 Attendees included 22 NWGMA members along with special guests Sidney Rice (former Seahawks receiver) and David McLay Kidd, the golf course architect who oversaw the renovation.
Kidd, his design associate Nick Schaan, and Sand Point superintendent Marcus Harness spoke at the pre-round lunch about their marching orders for the remodel. Since the course's reopening in June, Sand Point's members are enjoying the results they were able to achieve – mainly, broad landing areas, updated greens and impressive new sightlines of Lake Washington and the Cascades.
Schaan [after the round in the bar] said crews applied more than 1,200 tons of sand to give the course much firmer and faster playing conditions. The transformation into a heathland-style course included a 57 percent increase in fairway coverage and the addition of over 40 new bunkers, bringing the total to over 90.
Kidd said his company, DMK Golf Design, work more often from scratch to craft a golf course on a piece of land, versus a remodeling project such as Sand Point's. "I would much rather be a writer than an editor," Kidd noted of the difference in design philosophy. "That's what this [project] is – you're editing. I couldn't change the routing, I couldn't rebuild every green."
The architect, who played Sand Point a half-dozen times before the renovation, was happy about his first round at the new course. "I find the golf course super-fun," the Scotsman and Bend, Ore., resident said. "If I take my architect hat off, I had a lot of fun today. I could hit a golf ball that was not a particularly good shot, could find it and get back in the game."
Submitted by Bart Potter
NWGMA Secretary
August 2020
Update on 2020 NWGMA Tournament/Banquet
Sand Point Country Club, which underwent a significant remodel over the past year, will host the annual Northwest Golf Media Association fall banquet on Oct. 22, 2020.
The remodel, overseen by noted golf architect David McLay Kidd (Bandon Dunes, Gamble Sands, et al), refigured several holes and many greens, added 40 sand traps and removed damaged and diseased trees for much-improved play as well as opening up views of Lake Washington and the Cascades. The club is anxious to show off its new look to our members and, hopefully, Kidd may address the gathering.
Even though it is more than two months away, this is an attempt to assess the interest for NWGMA members who want to attend. We would like to give the club a reliable estimate of how many members – each of whom can bring one guest – will be participating in the golf/lunch event.
So email your interest to NWGMA co-founder Jeff Shelley (fairgreens@seanet.com) or Anni Shelley (annishelley@me.com), who have been Sand Point members since 1993.
The COVID-19 pandemic has enforced restrictions on many of the region's golf clubs and golfers. As of now, masks and social distancing are required at SPCC – until the first tee - and access to the indoor spaces is limited. Any further strengthening or lessening of restrictions will be forwarded to members as the above date approaches.
***
NWGMA Has Done a Lot over the Years
The NWGMA was created in 1995 for those who "write, edit, discuss, produce and otherwise impart golf-related articles, books, columns for newspapers, magazines, television, radio, internet, social media and all other forms of communication.''
Through the years, the nonprofit organization has had a major impact on the region's golf industry. It has been at the forefront of media spread for events such as the PGA Championship (at Sahalee); the U. S. Amateur and U.S. Open (both at Chambers Bay); the annual Boeing Classic (Snoqualmie Ridge); dozens of local/ regional events and notable players; and detailing the emergence of Chambers Bay, Bandon Dunes, Gamble Sands and many of other new courses.
NWGMA meetings have also put the spotlight on golf course superintendents, environmental issues related to the game (including water usage), challenges faced by golf-industry changes, and many other newsworthy topics.
However, changes in media outlets and reporting priorities have reduced the numbers of us golf-related folks. Consequently, NWGMA membership and, particularly, participation have been affected (the pandemic certainly hasn't helped). It has reached a point where we are concerned over the future viability of the association.
There is still the need for a golf media model in the region and we welcome your thoughts on the future of the NWGMA before and at the banquet. Looking forward to seeing everyone and Sand Point's new look. Let the Shelleys know if you can attend. Thanks in advance!
Bob Sherwin, President
***
Send us your Thoughts
As President Sherwin wrote, "It has reached a point where we are concerned over the future viability of the association."
Sherwin and the other officers of the NWGMA would like to hear your thoughts and comments about its survival – why it should or should not – and publish them in the September issue of the Writers' Tee. Send your opinion pieces to NWGMA secretary Bart Potter at greygoatee06@comcast.net.
***
Kidd Interview
Kidd, a Scotsman who has always been generous with his time with the region's golf writers, recently sat down for a Q&A with PNGA communications director (and former NWGMA president) Tom Cade. In the interview, Kidd talks about the thinning and removal of dead and dying trees at Sand Point which opened up sightlines to Lake Washington and the Cascades, while improving playability: "The core thing about golf: find it, hit it, find it, hit it. We've done all of this and we couldn't be more pleased. It came out really, really well."
***
Northwest Golf Loses Two Outstanding Contributors
Sean Fredrickson, president of the Pacific Northwest Section PGA, died July 5 in a tragic plane crash along with his three children in Coeur d'Alene, Idaho. He was 48.
This, from the Section website: "Mentorship was a passion of Sean's, creating our mentoring committee and our early mentoring conferences." Also: "Sean led the Section through an unprecedented time, first taking the reins a year early as President and then leading us wisely through this pandemic. We are all better because of Sean's leadership."
Mike Asmundson, who designed the Home Course, died June 6 in Scottsdale, Ariz., at 72. Asmundson, with an international portfolio of golf courses – including seven in Chile – was a poet and a painter. But he said nothing was more difficult or more rewarding than designing golf courses.
Asmundson spoke of his fondness for the Home Course in DuPont, Wash. – its scale, openness and diversity – in a 2010 article in The Olympian, just ahead of the U.S. Amateur, for which it was the supporting course to Chamber Bay. "There's not a weak hole on it," he said. "Everybody's got a postcard hole. I don't. It's 18 holes, and they're all great holes. It's a strong golf course."