NWGMA Trip to Lewiston, Id. and Clarkston, Wa.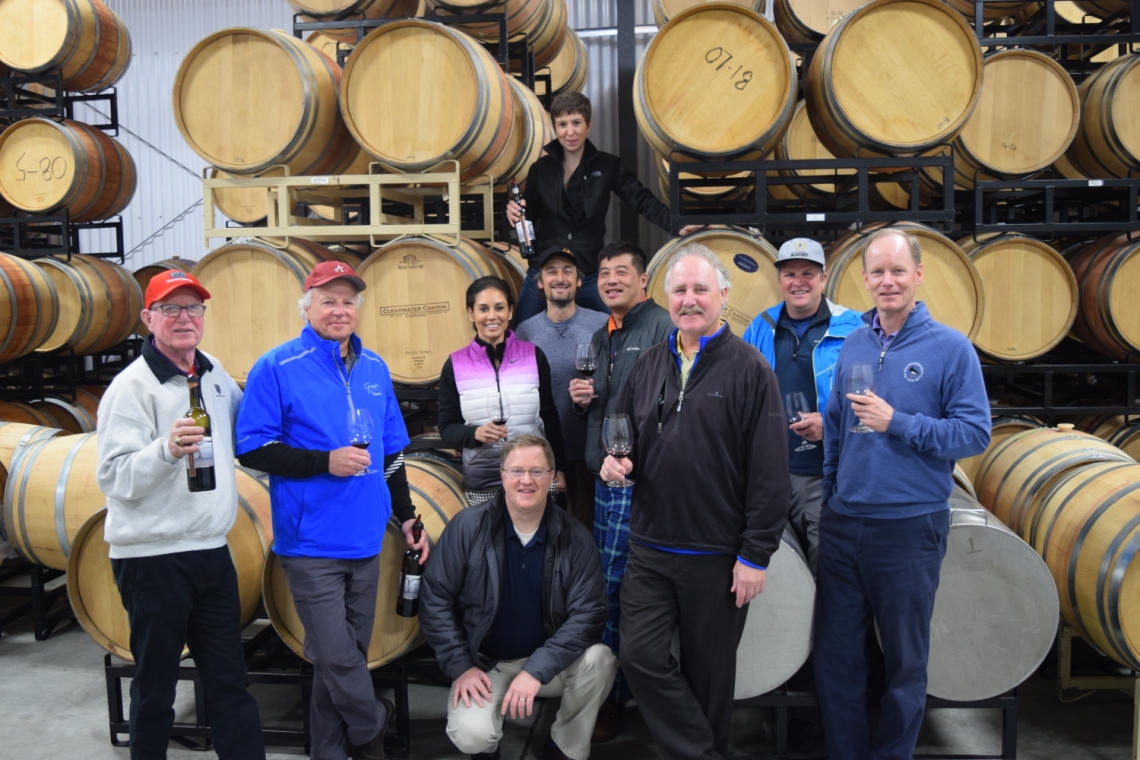 Attendees: Bob Sherwin, Jim Street, John Hughes, Alfie Lau, Shon Crewe, Andrew Reed, Eric Degerman, Rob Perry, Guy Generaux
NEW AVA, NEW BUDDY TRIP POSSIBILITIES

Overview: A splendid trip organized by Eric Degerman and Coco Umiker, winemaker/co-owner of Clearwater Canyon Cellars in Lewiston, saw lots of great wine, good golf, awesome hospitality and an illuminating look into what the good people of this region are trying to accomplish.

The summary below incorporates a lot of what Eric has written, along with details of what occurred during the trip.

While the majority of us made the six-hour drive across Washington State to Lewiston and Clarkston, Perry and Generaux took a short flight to Pullman and joined us at Vine 46 after a round at Palouse Ridge. Sherwin and Hughes made an extra-early-morning drive to the area so that they could play Quail Ridge in Clarkston.

The primary reason for the trip was the wine/golf combination. Both are emerging, as are the featured Lewiston and Clarkston Country Clubs. And you don't have to be a member to play them.

We were also there for the year anniversary for Lewiston/Clarkston to be awarded the latest AVA (American Viticulture Area) in the United States. An AVA is granted by the federal government after folks in that region prove it's a distinctive grape-growing area. The group was never long without either a club or a wine glass in hand.

The tour started just after 5 p.m. on April 23, when Coco Umiker greeted us at the Quality Inn and led us to our first winery, Vine 46 in Lewiston for a private tasting.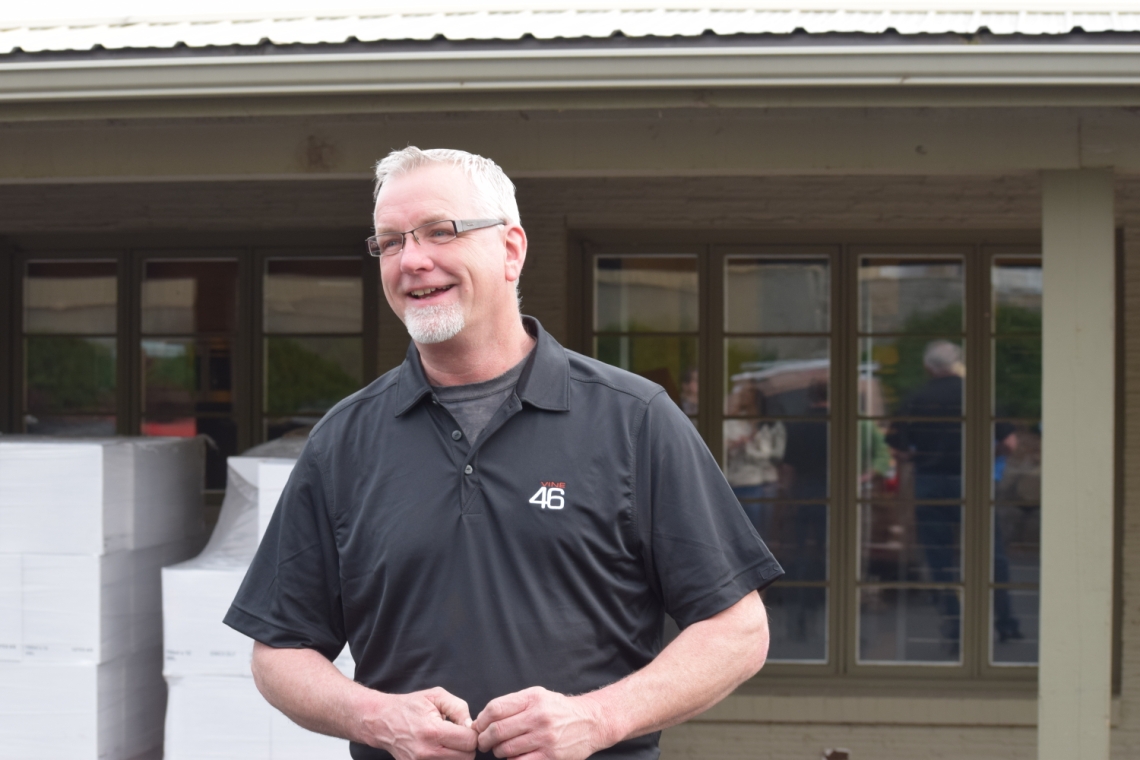 Vine 46 (signifying the latitude) winemakers Mike Yates and Jeff Ebel (pictured), along with their team are relative newcomers to the industry, but have already won awards for their fine wines. They proffered up four great 2014 Vine 46 wines for us to try, including a Trill, Malbec, Sangiovese and Cab. Their tasting facility, which is part of Granite Concepts, is as beautiful as their wines and they are already a strong addition to the winemaking community of the region.

We were then greeted by Clint Hoiland, owner of Twisted Vine Wine Tours, who offers custom tours of the wine region. Hoiland, a former parole officer, regaled us with some great Lewis & Clark history along with some great stories about his former job (ask him about the 90-year-old grandmother with the surgery scar).

Hoiland drove us about 40 minutes north, to the idyllic town of Juliaetta, named after one of the founders' two daughters, Julia and Etta. This is where the cozy Colter's Creek Winery is located. Mike Pearson and Melissa Sanborn are the principals behind Colter's Creek and their tasting facility. They provided a scrumptious tasting dinner, designed by Mike, who's also an executive chef and prepared by Chef Sarah Smith.

All of the ingredients are locally sourced where possible and besides the charcuterie appetizers and opening salad, dinner was an amazing combo of halibut cheeks and Wagyu beef. And not only did Colter's Creek offer some amazing wine, Coco and husband Karl Umiker brought some of their Clearwater Canyon Cellars reserve wines as well. These four friends spearheaded and funded the petition to establish the Lewis-Clark Valley AVA, which celebrated its first anniversary on April 20.

After we finished our rhubarb pie and ice cream dessert, Clint was about to drive us back to Clarkston when we noticed that the other hopping place in Juliaetta was the Bottom's Up Pub, across the street and adjacent to the First Bank of Pizza, another legendary Juliaetta haunt.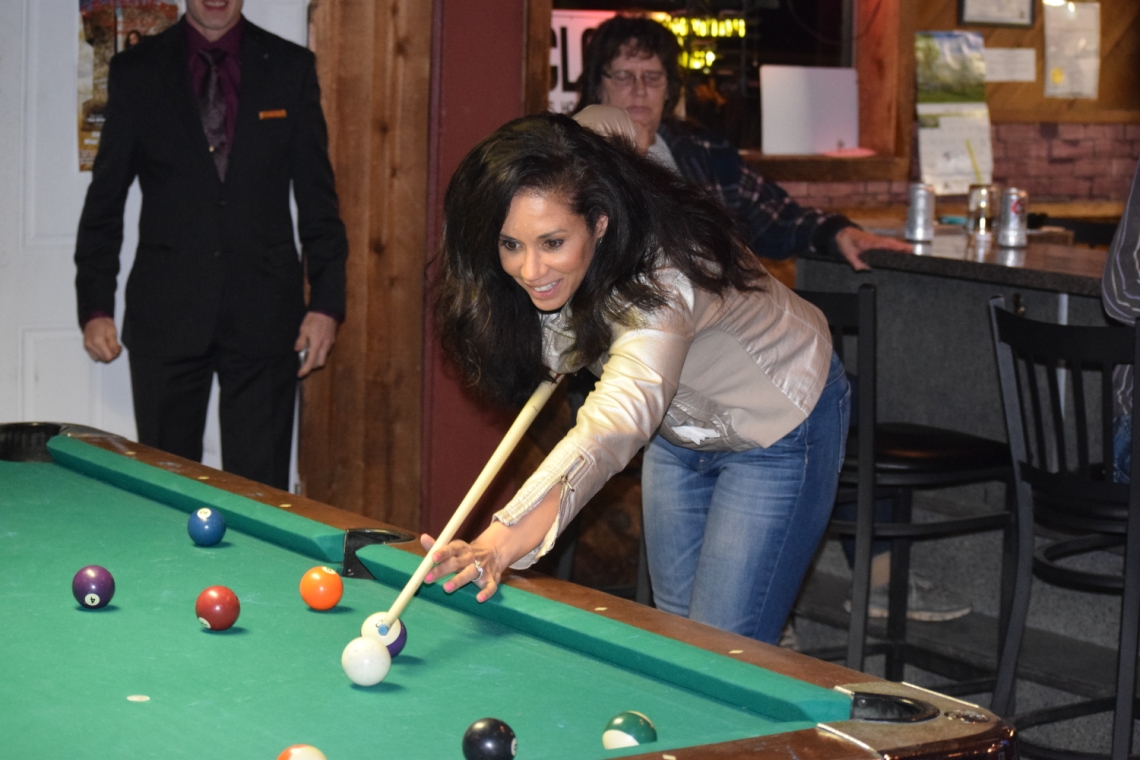 Since Clint had to get the car turned around, a quick trip to the BU (as the locals know it) led to Coco and Shon Crewe taking on Bob and Jim in a friendly game of 8-ball pool. No need to ask who won, as the men thought the object of the game was to pot the cue ball. A great first day couldn't be topped, but Coco had bigger plans for us on Monday, April 24.

BUCKET OF BALLS FOR BREAKFAST
While the early birds were up just after 6 a.m. and enjoyed a great breakfast at the Quality Inn, it meant we had ample time to wander down to Dave's Golf Shop. His remodeled driving range - yes a driving range – is in back of the property and can only enhance the experience for buddy trips. Owner/operator Dave Scharnhorst took over the facility just over a year ago and turned an aging, dilapidated facility into a first-class operation alongside manager Marlon Eng.

Not only does Dave's Golf Shop offer the best and newest equipment – Jim Street got to hit the new Callaway Epic driver and miraculously found another 25 yards on his drives – it also has 20 covered stalls, club fitting and everything you could ask for in a golf shop. Dave also operates a shop in Spokane, so if you need golf equipment or instruction in the region, he's your man.

Not only did Dave and Marlon open up for us especially early, it was also their usual day off. We also noticed the American Empress Steamboat Company steamer alongside on the Snake River. The steamer was in port during its week-long journey to Portland.

DYNAMIC DUO BEHIND THIS NEW WINE COMMUNITY

By mid-morning, we were off to Coco and Karl's winery and estate vineyard. Coco and Karl's story is nothing short of inspiring, so here are some highlights.

Both are highly-educated, with Coco earning a doctorate in wine microbiology and Karl a Masters' degree in soil sciences, followed by 11 years in agricultural research. Coco first noticed Karl after a bicycle race that Karl handily won.

With Coco's family having farmed in the Lewiston Orchards for more than 100 years, it seemed natural for them to go into winemaking. Coco's grandfather, Ralph Nichols, owned a lot of land in the area and he let Coco and Karl grow their first vines in a small half acre just north of their home in Lewiston. But the couple had to make it on their own, so their production facility was a small building in the hard-scrabble North Lewiston business district. For more than nine years, Coco and Karl worked out of North Lewiston, with an eventual goal to open a larger, more modern facility just outside their Lewiston home.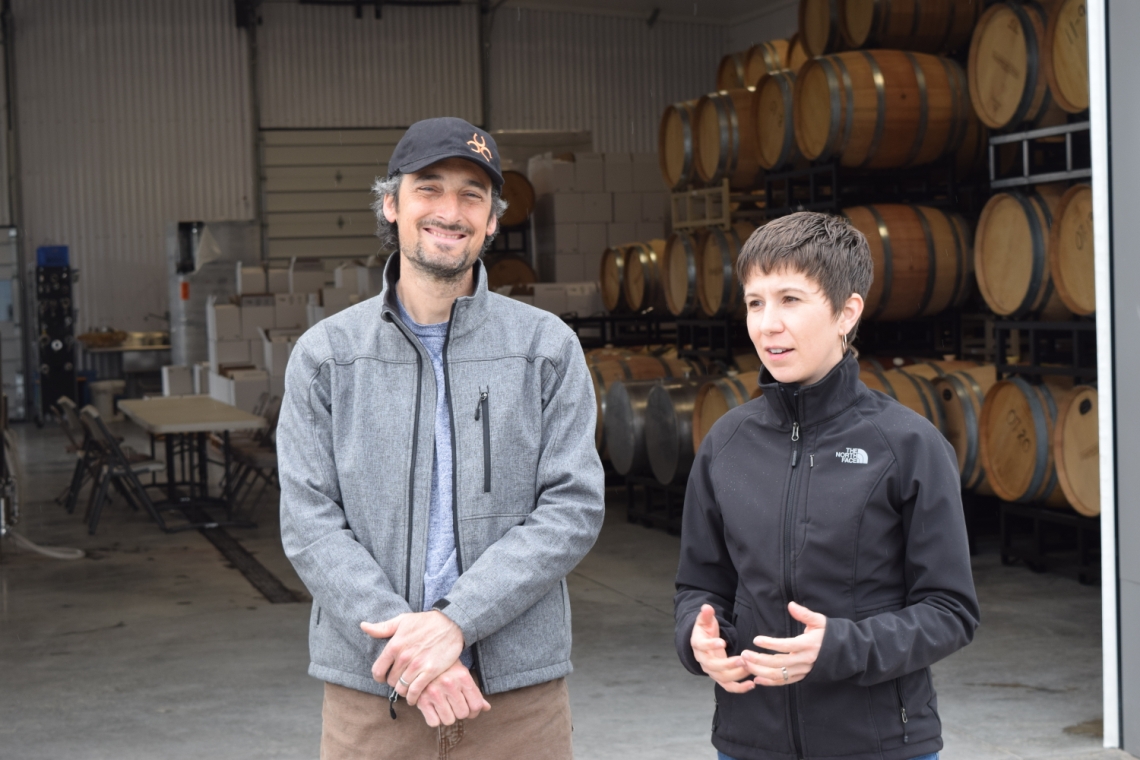 That dream finally came true in 2016 and early 2017, as their new facility is a pitching wedge from their backyard. Clearwater Canyons Cellars now has an automatic press – Coco and Karl were hand-pressing their grapes for the past decade – and a glycol cooling unit that has made their jobs much easier.

Coco has also mastered marketing of their wines and their highly successful Wine Enthusiast Club has many members, the two newest of which are Bob and John, who eagerly signed up for six spring wines of their choosing and six autumn wines of their choosing.

Coco also believes in using local products, so all her printing is done locally. Lunch was provided by another local company, Mystic Café in Lewiston, run by Sarah, who's also a sommelier to go with her great cooking skills. The beef sandwich was to-die-for and it was all washed down with some of Clearwater Canyon's finest wines.

WINE PAUSE; GOLF BEGINS

As much as we wanted to spend even more time with Coco and Karl – they truly are the nicest people you'll ever meet – it was off to golf at Clarkston Golf and Country Club. Club president Curt Johnson and professional Jordan Mackey welcomed us and had us play with some of their members, including Doug Mattoon, president and CEO of Valley Vision, the economic development agency for the Lewis-Clark Valley.

Clarkston is a tight, mostly flat track where accuracy off the tee is paramount. The tree-lined - 800 trees - fairways don't look too daunting until you're in them and have no shot at reaching the green in regulation. The final three holes at Clarkston are particularly memorable. The 375-yard 16th is tight and features a small undulating green. The 17th hole, a 152-yard par 3, is almost straight uphill and you'll need two clubs extra to make it onto the small green. And the finishing hole, only 289 yards on your scorecard, is a blind-shot downhill par-4 where you can think about driving the green, but if you're left, you're dead. If you're too far right, you'll have tree trouble. The smartest play is 180 yards off the tee and then a nice wedge to set up a closing birdie.
Bearing in mind this was our first golf of the trip, it was time to get back to wine tasting. No fewer than six wineries came forth with offerings: the aforementioned Clearwater Canyon Cellars, Colter's Creek and Vine 46, but three other local wineries, Lindsay Creek Vineyards, Basalt Cellars and Woodie Cellars.

The owner and/or winemaker from each winery joined us for dinner and the distinquished Clarkston clubhouse restaurant. Coco had each winery put forth two wines, so with 12 wines and a four-course winemaker's dinner, that meant three wines for each course.

Mattoon opened the dinner by talking about the growing businesses in the region. The local paper mill is the biggest employer, followed closely by one of the largest ammunition makers in the country. Apparently, the majority of .22 caliber ammo is made in the region. Winemaking and tourism is starting to make inroads, which was a perfect segue for Carter at Woodie Cellars, Rick Wasem at Basalt Cellars and Art McIntosh at Lindsay Creek to talk about their wineries.

Dinner was also exquisite, with lemon garlic seared prawns as an appetizer, an autumn apple salad and Asiago crusted chicken before our strawberry cream cake dessert. A truly fine job by the crew at the Clarkston Golf & Country Club.

One big takeaway: There's a huge sense of cooperation amongst the six wineries in the area. While they know it's a competitive industry, they want all of them to succeed. Instead of fighting for the same pie, the winemakers are trying to make winemaking a bigger pie so that everybody can eat heartily.

After returning to the Quality Inn, Coco and Karl showed their incomparable customer service skills by delivering Bob and John's wine direct to the hotel. If you join their wine club, there's free shipping on six bottles or more (thought sadly not to Canada, where our draconian laws make import wines a huge luxury). Coco, perhaps taking pity on a poor Canadian like myself, did ensure that I got the remnants of a leftover bottle to enjoy as a nightcap.

LEWISTON GETS ITS DUE

The final day of the trip started with breakfast and a 30-minute presentation from Michelle Peters, president and CEO of the Visit Lewis Clark Valley tourism association.

Hells Canyon is a huge attraction in the area and is deeper than the Grand Canyon. Not only are half-day and full-day cruises along the canyon available, adventure sports such as jet-boating are all part of the allure of the area.

While most visitors to the area spend an average of 2.5 days, there are plans to have more kid-friendly activities so that the average stay get up to 4 days. The biggest reasons people come to the Lewis/Clark Valley is affordability, more sunshine than along the coast and the friendly, smaller-city vibe of rural America.
With more than 1,000 hotel rooms and 400 RV spaces, tourists have been flocking to the area, with Michelle's budget increasing five-fold since she started her job 17 years ago.

The final stop of this great trip was 18 holes of golf at Lewiston Country Club. Head pro Casey Brown greeted us at the hilly track that also features a driving range where all your shots go into a lake.

Casey had to man the shop, so Dave, the general manager, along with members Mike and Debbie joined us on the course. Lewiston CC is a fabulous track up in the hills overlooking the Snake River. Many of their holes play through the natural canyons. Perhaps our favorite hole was the 402-yard 14th, where you play through a tight canyon, uphill to a large multi-tiered green. You won't find many birdies on this hole and par feels like a birdie. A truly beautiful track that is usually playable year-round, but as everybody knows, winter 2017 has put many courses several weeks behind schedule.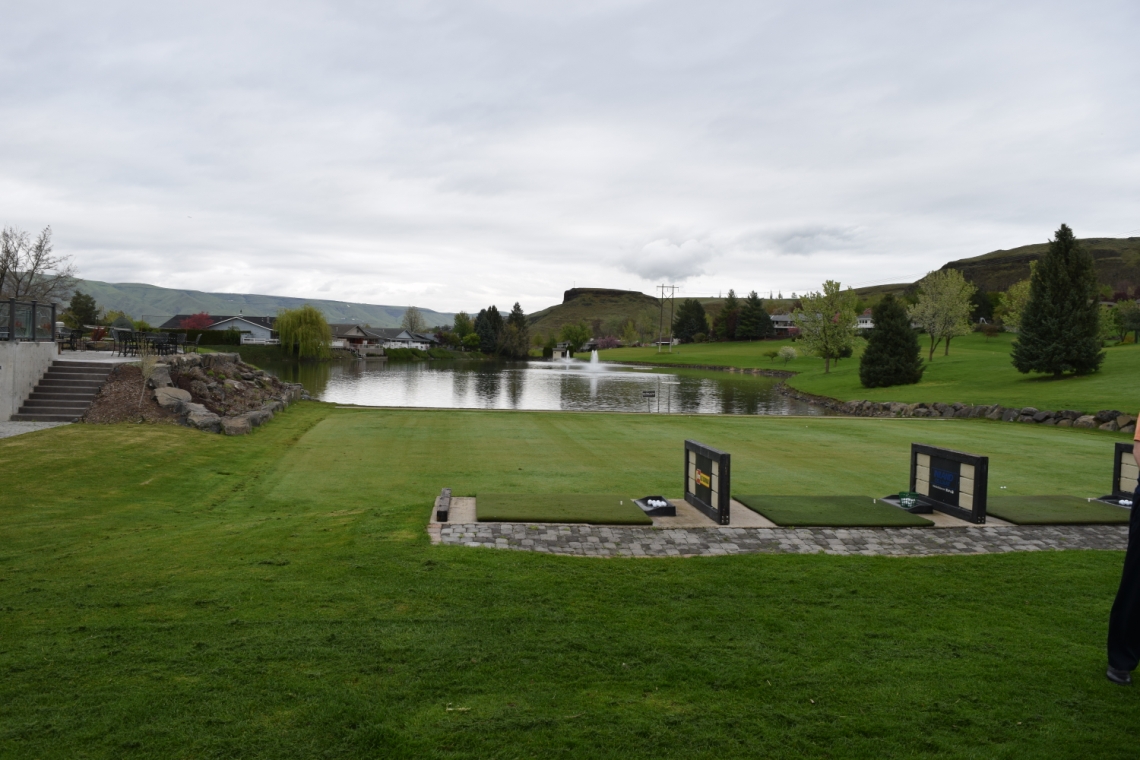 Our last meal was also spectacular, prepared by the Lewiston CC staff. It started with a cucumber salad, poke (Japanese sashimi) appetizer and fish tacos, all washed down with more of our favorite local wines (Colter's Creek).

A great 72 hours in an area many of us were unfamiliar with, but we will all be back. One final round of thanks to Coco, Karl, Eric, Clint and everybody else who showed us the finest hospitality we could ever have imagined.

Submitted by NWGMA secretary Alfie Lau
NWGMA members invited to Egan celebration
By Tim Trower
Following a summer in which the spotlight once again found Chandler Egan, illuminating his
remarkable life as golf returned to the Olympic Games, Rogue Valley Country Club will honor its
esteemed former member.

On Friday, May 12, the club will host a presentation on Egan by Don Holton, the official
biographer of the champion player and reputed course architect who designed RVCC's first nine
holes in 1924 and it's second nine in '29. Holton is the historian at Exmoor Country Club in
Chicago, where Egan was raised and where a permanent display heralds his accomplishments.
There will be light snacks and drinks available that evening.
The next day, May 13, the club will dedicate the Original Course, renaming it the Chandler Egan
course to further entrench his legacy. A shotgun golf tournament on the newly-christened
course will follow.
"It's the history of the course," said board member Phil Iantosca, a member of the Chandler
Egan Celebration committee. "It's been lost over the years, and we figure in doing this, we're
bringing that back to the course. We're giving our members some understanding of how big a
person Chandler Egan was to not only golf, but to the Rogue Valley and, specifically, to the
Country Club."
Another board and committee member, Marla Parmele, said photos and other memorabilia on
the club wall's make her curious about their stories.
"To actually think about our history, it's so much bigger, so much longer than just the time
we've been members," she said. "I just think it's a gift to be able to give some of that history to
our current members."
Egan moved to Medford in 1911 to become an orchardist, and remained here until his death
from pneumonia in 1936 at the age of 51. His former house on Foothills Drive is on the
National Register of Historic Places.
Before arriving in Medford, he was considered by many to be the best golfer in the world,
having won the silver medal in the 1904 Olympics in St. Louis and captaining the American team
to the gold medal. He earlier won the NCAA championship while attending Harvard, and
captained that school to three straight NCAA team titles, the last in 1904.
He won the U.S. Amateur in back-to- back years, 1904 and '05. Only four players have won it
more than twice, among them Bobby Jones and Tiger Woods. Egan also was a four-time winner
of the Western Amateur, a five-time winner of the Pacific Northwest Amateur, was runner-up
in the U.S. Amateur in 1929 at Pebble Beach and played on the 1934 U.S. Walker Cup team.
He was thrice the No. 1-ranked amateur player in the U.S.
Nearly all of Egan's course design work was in Oregon, Washington and California. Among thosecourses,
Pebble Beach was his crowning glory, remodeling it in 1928, a year before he took second in
the U.S. Amateur. The trophy for the California Amateur is named for him.
Other design credits of his include Eugene Country Club, Reames Country Club in Klamath Falls,
Bend Country Club, Waverley Country Club in Portland, Eastmoreland Golf Club in Portland,
Tualatin Country Club in Portland and West Seattle Golf Club.
He was working on Legion Memorial Golf Club in Everett, Washington, when he became ill,
passing away on April 5, 1936.
For more information on the event, contact Tim Trower at 541 944-9812
Women's Golf Day set for June 6 -- See info
A memorable three-day journey to The Masters -- See Story
April 15 NW Golf Radio Show with Shon Crewe and Jim Moore -- check it out
Sandpines Golf Links dealing with five-month deluge -- See Story