May 2019
S
M
T
W
T
F
S
1
2
3
4
5
6
7
8
9
10
11
12
13
14
15
16
17
18
19
20
21
22
23
24
25
26
27
28
29
30
31
Welcome to the NWGMA
About the NWGMA
The Northwest Golf Media Association was founded in 1995 by and for people who write, edit, discuss, produce and otherwise impart golf-related articles, books, columns for newspapers, magazines, television, radio, internet, social media and all other forms of communication. The nonprofit organization was originated to assist in the collaboration of efforts of the working media who cover golf in the region.
The NWGMA seeks to bring attention to the region's golf heritage, and it hopes everyone in the media gives golf equal status with other sports. It also strives to educate the community about all facets of the golf industry and what each entity brings to the game of golf. Its members facilitate this by creating a network among colleagues for sharing story ideas and creating a community for discussing and disseminating Northwest golf news.
NWGMA Mission Statement
The Northwest Golf Media Association shall focus on the best interests of the game of golf in the Pacific Northwest with the assistance of individuals in the Northwest golf media.
---
The Writers' Tee
News and notes of the Northwest Golf Media Association
May 2019
Association News
NWGMA meeting June 5 at LPGA Legends media day
President Bob Sherwin has announced the next meeting of the Northwest Golf Media Association will be June 5 ahead of media-day activities for the LPGA Legends event at White Horse Golf Club in Kingston, Wash.
White Horse Director of Golf Bruce Christy will welcome media members at noon in the White Horse banquet room. He's asking for RSVPs (bruce@whitehorsegolf.com, 360-297-4468) so he knows how many box lunches to order and who'll be wanting to play the golf course.
Christy said LPGA Legends players onsite will be fair game for interviews beginning about 12:45 p.m., along with out-of-state players seeking to "Wednesday qualify" for two spots in the June 7-8 Suquamish Clearwater Legends Cup.
The day's schedule also includes a teaching clinic by LPGA Legends for media and VIPs.
Member News
PNGA/WSGA establishes partnership with Golf Talk Seattle
Emmy- and Murrow-award-winning broadcaster Josh Kerns is back in the NWGMA and back on the golf airwaves. He's producer and host of Golf Talk Seattle, which airs at 6 a.m. Saturdays on Sportsradio 950 KJR and is distributed on-demand through the iHeartRadio and Soundcloud apps.
Golf Talk Seattle is the official broadcast media partner of the Pacific Northwest Golf Association and Washington Golf Association. Kerns said the show will spotlight the associations' tournaments and showcase places to play, practical instruction from PGA teaching and tour pros, fitness tips, and interviews with tour pros with Northwest connections and other notables.
Tom Cade, PNGA/WSGA communications director (and former NWGMA president), said the WSGA will promote the show and link to it through its website, social media and a twice-monthly email newsletter distributed to 69,000-plus WSGA members.
Kerns said he hopes to hear from Northwest golf writers and media pros who want to talk up their current projects on the radio. You can reach him at josh@golftalkseattle.com or 206-920-1482.
Northwest Golf News
Bandon marks 20th year; Sheep Ranch to open in 2020
Cade was in Bandon, Ore., last week for a 20th-anniversary celebration of the opening of Bandon Dunes Golf Course, the first course at the Bandon Dunes Golf Resort that has since grown to five courses (and soon to be a sixth).
Cade sent along a raw audio feed of a Q&A with Bandon Dunes founder Mike Keiser, course architect David McLay Kidd and Shane Bacon of Fox Sports.
The resort recently announced the fabled Sheep Ranch layout, heretofore playable only through back channels if you'd heard of it at all, will be completed and open to public play in 2020 as the sixth official Bandon course. Click here for some nifty moving pictures of the Sheep Ranch site and its coastal environs.
Washington Open back at Meridian Valley May 20-22
A cluster of NWGMA members attended a media kickoff April 30 at Meridian Valley Country Club ahead of the Washington Open Invitational.
We heard from four recent Washington Open champions, including 2018 winner Ryan Benzel, who finished a shot ahead of John Cassidy, Shane Prante and amateur David Ganz after a tight back nine.
Tournament charity beneficiary Folds of Honor is continuing its productive partnership with the Washington Open and Meridian Valley this year.
Credentialing opens for Legends Cup event
Media members hoping to cover the June 7-8 Suquamish Clearwater Legends Cup should reply to an email from Sue Fracker or contact her (617-513-4716) to be sent the email, then reply before Tuesday, May 28.
A media credential is required for all official media representatives to gain clubhouse parking, complimentary grounds admission and access to the media area inside the clubhouse.
Photographers, TV crew members and reporters must have a media credential while walking the course and gathering images. If you are not wearing a media credential, you will be subject to questioning by a Legends rules official or staff member.
To obtain media credentials, reply to the e-mail with:
The full names of your media representatives (a badge will be assigned to each)
The full name of your media outlet/ channel/organization
The mailing address and contact name for receiving creds (up to Tuesday, May 28)
If you wish to pick up your credentials on site, you may do so June 3 – 6 in the tournament office inside the clubhouse at White Horse Golf Club.
Please ask for Sue Fracker (617.513.4716) or shoot me an e-mail in advance of your planned pick-up time.
You may also elect to leave your badges at Will Call at the Admissions gate to pick up on June 7 or June 8. Let Fracker know.
If you would like an interview with a specific player or have a story idea in advance of or during the tournament, Fracker says don't hesitate to reach out.
There will be a qualifier on Wednesday, June 5, at about 2 p.m. at White Horse to fill two more Legends spots and round out the professional field of 36. Qualifiers will be announced immediately following play that evening.
Trish Johnson is the defending champion. Juli Inkster, Jane Geddes, Tammie Green, Maria (Hjorth) McBride, Christa Johnson, Janet Anderson and Suzy Whaley are new to the field this year.
The Writers' Tee is sent around the first day of the month to NWGMA members.
---
The Writers' Tee
News and notes of the Northwest Golf Media Association
April 2019
Member News
NWGMA member Allen Schauffler got up early to talk to a group of veteran golfers' about their dawn-patrol rounds for "Rocks of Ages" for the PNGA Website.
Member Brad Ziemer checked in with the first female Evans Caddie Scholar from Victoria Golf Club in this story for British Columbia Golf, posted on the PNGA site.
Editor's note: If you've published anything you think is any good, or you especially like something written by a fellow NWGMA member, we'll probably agree … and post it here. Send story links and news about members, personsal and professional, and the Northwest golf industry to Bart Potter at greygoatee06@comcast.net.
Association news
NWGMA meeting: June 5 at LPGA Legends media day
President Bob Sherwin announces the next meeting of the NWGMA will be June 5 alongside a full schedule of media-day activities for the LPGA Legends event at White Horse Golf Club in Kingston, Wash. Stay tuned for time and place of the meeting.
White Horse Director of Golf Bruce Christy said a tentative schedule for June 5 includes the Kaiser Permanente Ladies Amateur Scramble, with 50 teams playing for a spot in the pro-am for the June 9-10 Suquamish Clearwater Legends Cup.
Also on the tentative sked for the day is a teaching clinic by LPGA Legends for VIPs and media. Media hacks will be able to play White Horse after the clinic.
Golf media news and events
Media day April 30 for Washington Open
RSVPs are requested for the media day April 30 at Meridian Valley in Kent, Wash., ahead of the 93rd edition of the Washington Open Invitational May 20-22.
A 10 a.m. news conference will offer up officials from the PGA, Meridian Valley, the Folds of Honor and the title sponsor, Muckleshoot Casino. Afterward, we can grab a quick lunch and head out to play Meridian Valley with representatives from the PGA and Meridian Valley.
Shoot your RSVP to Jeff Ellison, CEO of the Pacific Northwest Section PGA, at jellison@pgahq.com.
Credentialing open for USGA championships
Online applications for media credentials for the first six championships of the USGA's 2019 season are available now at mediacenter.usga.org/credentials.
The championships and their application deadlines:
U.S. Women's Amateur Four-Ball -- Timuquana Country Club, Jacksonville, Fla.: deadline April 24
U.S. Amateur Four-Ball – Bandon Dunes Golf Resort, Bandon, Ore.: May 20
U.S. Senior Women's Open – Pine Needles Lodge and Golf Club, Southern Pines, N.C.: May 9
U.S. Women's Open – Country Club of Charleston, Charleston, S.C.: May 23
U.S. Open -- Pebble Beach (Calif.) Golf Links: May 29
U.S. Senior Open – The Warren Golf Course at Notre Dame, Notre Dame, Ind.: June 20
NW golf industry news
Willows run sold
Word has come of the recent sale of Willows Run Golf Complex in Redmond, Wash., by the late Paul Allen's Vulcan Inc., to California company Sasada Sports International.
According to this story in the Puget Sound Business Journal:
"Allen, who died last year, and his former brother-in-law Brian Patton in 1993 paid $1.5 million for the property, according to public records. The property, once a corn farm where previous owners had planned an industrial park, came with approvals for an 18-hole course. A second 18-hole course was added to the complex, which has a driving range, a par three, nine-hole course and an eighteen-hole putting course. There are also two clubhouses totaling over 13,500 square feet and several practice facilities."
NTA conference registration opens
NWGMA member Paul Ramsdell, executive director of the Northwest Turfgrass Association, has announced registrations are open for the NTA's annual conference Oct. 27-29 at Bandon Dunes.
Read all about it here.
The Writers' Tee is sent around the first day of the month to NWGMA members
---
Remembering Dan Jenkins
By Jeff Shelley
I was lucky enough to lunch with Dan Jenkins during the 2008 U.S. Open at Torrey Pines. I'm proud to say I got a laugh out of the great sportswriter and a couple of other older golf scribes as we sat around a cafeteria table in the Media Center during the second round of the last major Tiger won.
I told Dan the story of Art, a fellow member of mine at Sand Point, who had pinch-caddied for Davis Love III during the two-day Fred Couples Invitational, held a decade earlier at Overlake in Bellevue. I was the event's Media Director.
Art returned to our club telling everyone about his wonderful experience with this gentlemanly North Carolinian. Art's effusive deification of Love droned on, and on, and on. It wasn't long before his eye-rolling golf buddies got sick of hearing the story.
Bobby Wagner, son of Dr. John Wagner – a longtime SP member and notorious prankster, was at that time the assistant pro at Overlake. So, son like father, Bobby forged a hand-written Davis Love thank-you letter and sent it to Art extolling his natural talents as a caddie and what a fantastic time Davis had during Freddie's tournament.
As expected, Art ratcheted up his bromance anew to his fellow club members. He proudly showed us all the cherished Love letter – which by now he'd framed and would hang on a prominent wall at his home.
It wasn't long before most everyone in the club knew what had really happened. Except, incredibly, Art, bless his late soul.
In homage to another blessed late soul, here are a couple of worthy tributes to the great Dan Jenkins.
A Daughter's Tribute
Sally Jenkins is a very talented sports columnist for the Washington Post– proving the fruit really doesn't fall from the tree. Here's what she wrote about her father. - Click here​ to read
---
Tom Cade and Susan Terry have Wed
World leaders convene; stock market spikes; fourth horseman saddles up
Bothell, Wash. – In an announcement of which the full scope of its impact cannot yet be fully gauged, Tom Cade and Susan Terry, both residents of this big ol' crazy world in which we live, have decided, against all reason, to get married. Finally.
At 4:00pm on Saturday, March 2, 2019, in a small private ceremony held in front of the floor-to-ceiling stone fireplace in the log home at the Dancing Dish Farm, Paul and Sheri Kent served as witnesses for Ms. Terry, and Michael and Sonja Cade served as witnesses for Mr. Cade. Longtime good friend Lincoln Johnson served as officiant.
Security was tight, the champagne was cold, the Pygmy goats were small, and after the ceremony the three couples and the officiant went to dinner at nearby Inglewood Golf Club.
"After 22 years of ambivalence, bickering, endless chores, and moodiness, we figured things can only get better," gushed a beaming Ms. Terry, who was also quick to point out there were some good times mixed in over the past two decades, such as epic travel adventures, numerous wonderful gatherings of friends and family, a beautiful home built together, and mutual support for two rewarding careers.
"I just felt we didn't want to rush into anything," explained Cade, evidently trying to defend the long courtship, in a carefully prepared statement given earlier to the stunned media outlets gathered at an abruptly-held press conference.
Sources say that friends and immediate family could not be reached for comment, but a neighbor driving by in a late-1970s Dodge pickup shouted, "I just knew it was gonna happen sooner or later!"
Meanwhile, the earth continues to rotate on its axis.
---
Minutes from NWGMA meeting of 2/16/2019 at Seattle Golf Show
The newsy annual opening meeting was attended by about 20 people in an upstairs meeting room at the Century Link Field Events Center. Members enjoyed free admission to the golf show thanks to Varsity Communications, which produces the show.
Association News
The Pacific Northwest Golf Association has agreed to provide non-financial support to the NWGMA. PNGA executive director Troy Andrew said his organization "will help behind the scenes" and that "details haven't been worked out."
The PNGA helped the NWGMA in a similar capacity 20 years ago after it was co-founded by Jeff Shelley and Bob Spiwak in 1995. PNGA assistance in publishing and distributing a monthly enewsletter is one example of how it is likely to help.
Shelley said, "We need to refresh the organization." Membership has dropped and a big reason is that the number of golf journalists has declined.
President Bob Sherwin said vice-president Jim Street has resigned. Secretary Alfi Lau has been out of touch with fellow officers. Anyone interested in being an officer is asked to contact Sherwin or Shelley.
Legends Tour - Jan Stephenson
In what marked one of the biggest celebrity appearances in the history of the NWGMA, soon-to-be World Golf Hall of Fame member Jan Stephenson spoke at the meeting.
The big news, as announced by Sue Fracker of the Legends Tour staff, was that the Suquamish Clearwater Legends Cup presented by The Boeing Co. at White Horse Golf Club is being switched this year to a Friday-Saturday (June 7-8) event instead of a weekend event.
This will enable those participants who either need or want to attend the World Golf HOF gala induction dinner on Sunday, June 9, to make the event at Pebble Beach.
Fracker said the tournament at White Horse, outside Kingston, will have a field of 36 (up from 30) this year and that the purse has been boosted from $175,000 to $200,000.
Stephenson, whose career includes victories in three majors, has 41 worldwide triumphs, including the 1987 Safeco Classic at Meridian Valley Country Club outside Kent. Stephenson charmed attendees and called the HOF induction "a cherry" atop her career.
Talking about the state of golf, she said, "Golf has become a power sport. You used to say drive for show and putt for dough. That's not true anymore. You want to hit it as far as you can no matter what. It doesn't matter if it's crooked or not. You've just got to hit it a long ways."
She said old rivalries such as between her and Pat Bradley mellow on the Legends Tour. "It's a lot different," she said.
Premier Golf Update
Associate NWGMA member Bill Schickler, CEO and founder of Premier Golf Centers, said his company has formed a "working relationship" with OB Sports. Ryan Whitney, senior vice-president of operations for OB Sports, simultaneously will hold the same title with Premier.
OB Sports operates more than 50 courses in the western U.S., including two in Washington –Mill Creek Country Club and Gamble Sands in Okanogan County. Premier Golf operates 11 Seattle-area courses, including all three Seattle 18-hole municipal courses and Interbay Golf Center.
Schickler said holders of the Premier Golf card will be offered incentives to play OB Sports' courses in such states as Oregon, Arizona and California. OB Sports cardholders will get incentives to escape desert heat in the summer and play Premier courses on visits to Seattle.
Schickler also said Toptracer technology, which tracks drives like on TV telecasts and provides gaming and virtual golf opportunities as well, is being introduced at Interbay and Jefferson Park. Golfers will have the option to pay an extra fee to use it. Schickler said information from balls struck while Toptracer technology is being used can be downloaded to a phone.
He said the novelty of Toptracer attracts new golfers and also boosts food and beverage sales because small groups make going to the range and using Toptracer a social outing. He said Premier hopes to add Toptracer technology at Bellevue Golf Course and Jackson Park. He said some physical improvements will be required at those facilities before the technology can be added.
Schickler said Premier is implementing "dynamic pricing" on greens fees. Under dynamic pricing – similar to airlines and hotels – costs for tee times will vary according to demand. Under this system, golfers with time flexibility who are more interested in price will be able to select tee times with lower prices while golfers more interested in convenience will pay more for premium tee times such as 8 o'clock Saturday morning. Schickler called it "truly a win-win" for golfers.
Schickler noted Premier's courses had a good – in some cases record – year for revenue in 2018 and noted that an important factor was a year of excellent golf weather.
British Columbia Golf News
Kris Jonasson, CEO of the British Columbia Golf and longtime NWGMA associate member, said a participation study showed gains of about 50 percent in First Nations (Native Americans is the term we use south of the border) golfers. Jonasson is at the forefront of making golf more diverse as he is a member of the diversity task force for We Are Golf, an international coalition of golf's leading organizations.
Jonasson noted that Royal Colwood Golf Club on Vancouver Island will host the Astor Cup tournament for women in the final week of August. Teams from South Africa, Great Britain-Ireland, New Zealand, Australia and Canada will participate. The tournament was first played in 1959.
Starting in March, British Columbia Golf will have seven women and five men on its board.
New Name for Women's Organization
Associate NWGMA member Cheri Brennan explained how the Executive Women's Golf Association changed its name to the LPGA Amateur Golf Association last year. The organization, which seeks to provide a welcoming golf community for all women, is now aligned with the LPGA and LPGA Foundation.
Brennan said the LPGA Amateur Golf Association will be operating locally at nine courses this upcoming golf season. She noted a special membership offer is in effect until March 1. An information session will be held March 6 from 6:30-8 p.m. at the Total Wine store near Interbay at 1550 W Armory Way.
Other News
Five inductions into regional golf halls of fame will occur April 26 at Inglewood Golf Club in Kenmore.
Dan Hill, now the general manager at Broadmoor Golf Club, and Pat Fitzsimons, winner of eight Northwest pro "majors," will be inducted into the Pacific Northwest Section PGA Hall of Fame.
Entering the Pacific Northwest Golf Association Hall of Fame will be: Bill Sander, winner of the 1976 U.S. Amateur and a 15-year tour professional; Rick Fehr, two-time winner on the PGA Tour; Kathy Mant, a Eugene native who won a national collegiate title at Arizona State, played on the LPGA Tour and is currently the winningest coach in the history of Georgia State women's golf program.
By the way, 2019 is the 100th anniversary of Inglewood Golf Club.
Sylvies Valley Ranch
Randall Fitz, the director of golf at the new, award-winning resort in Eastern Oregon between Bend and Boise, gave members an update on the facility perhaps best known for its use of goats for caddies.
The reversible Hankins Course and Craddock Course (one is in use on odd-numbered days, the other even days) were designed by Dan Hixson, who also did Wine Valley outside Walla Walla. The facility also has the 7-hole McVeigh's Gauntlet with a par-2 "bonus hole" and the family-friendly 9-hole Chief Egan Course, which is 875 yards.
The 140,000-acre property includes a working ranch and has 4,500 cattle and 3,000 goats. In addition to golf, guests can use three shooting ranges (on the pistol range you can fire an original Colt .45), go fly-fishing, horseback riding or take carriage rides. The resort also offers activities in the winter such as ice fishing, snowshoeing and cross-country skiing.
Minutes submitted by Craig Smith, NWGMA Secretary Emeritus
---
The Passing of Former NWGMA Member Bill Bailey
We are extremely sad to report the passing of former NWGMA member Bill Bailey at his new home in New Mexico. Bill's email address was "TUPNRIP," and he was never happier than when he was able to tee it up and rip it with friends, often with his usual group, the WHT ("Weekday Hackers' Tour").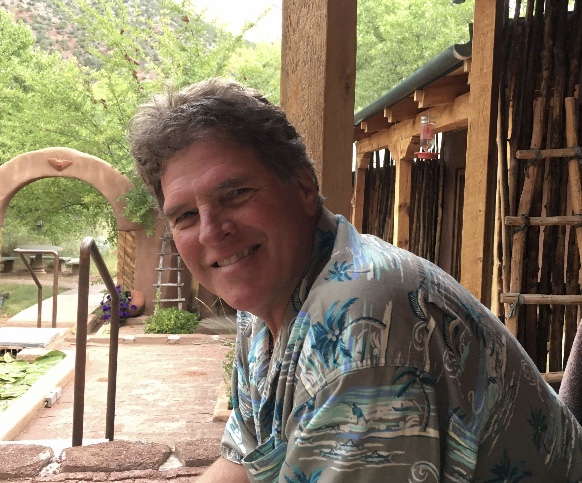 A talented videographer, Bill spent many years on the news team at KING5 in Seattle, traveling the Northwest and helping report on the region's biggest news stories. Among his many other projects, he shot and edited a tremendous video for the golf-education organization First Green, helping that nonprofit group spread the word about their mission of interesting young people in golf and the environmental benefits of golf courses. He also worked in television news in the Monterrey, Calif., area for many years and always cherished his time spent shooting video at the "Crosby Clambake," having a chance to chat with the pros and celebrities.
Bill had a big heart, a big laugh and a big swing. When his putter was working right, he lovingly called it "the Laser." When it wasn't, he called it a lot of other things. He enjoyed counting up the "dots" on the scorecard and collecting golf-bet winnings from pressure-packed quarter-a-hole games.
Bill, who recently celebrated 30 years of sobriety, and his wife Mary lived for a time at Sudden Valley ("Sodden Valley" as he cheerfully called it) in Bellingham, and he played there often. But he was willing to travel anywhere to play golf, delighting in road trips to Desert Canyon, Gold Mountain, Shuksan, Horn Rapids, Dungeness, West Seattle, Alta Lake and many, many more places. He is survived by Mary, who he loved even more than golf and life itself.
A tribute to the late John Harbottle III

Here is a touching story recently published in Golfworld by the late John Harbottle III's wife.
Recalling 31 years as a Northwest golf writer
This column will feature the author's recollections of his 31 years as a golf writer. The installments will stem from his many travels and experiences, which led to a gradual understanding that the game boasts many intriguing elements.
It's funny how ideas, forged subconsciously by realities and dreams, evolve into full form, seemingly at the most random times.
This particular brainstorm turned out to be a life-changer. It started with sleepy scrawls on a Post-it at 3:00 a.m. It said: "Write definitive Northwest golf guide." The idea seemed so compelling after I awoke the following morning it evolved into cursory research to see if anyone had done such a thing before; getting an okay to proceed by my wife; and making a trip to a legendary marine-supply store in Seattle. It was also enabled by enough naivete to fill a Junior Miss beauty pageant.
I had no clue as to what I was getting into, but was highly motivated to finally be my own boss and forge a new career writing about something I truly cared about.
This is the genesis of a quixotic quest – and ultimate success – in compiling my magnum opus, "Golf Courses of the Pacific Northwest," the third edition of which contains first-hand descriptions of 550 courses over its 622 pages. Stretching 11 years – from 1987 to 1998 – while spanning over 200,000 miles and five different automobiles, the odyssey represented some of the most wonderful moments of my 68 years on this planet.
It also established a career that's allowed me to play over 800 courses on four continents, be involved in many segments of the golf industry, and meet hundreds of smart, illuminating people. In other words, that original aha moment led to me becoming one lucky guy.
The wacky book idea took shape in spring 1987, but it had been festering for years. I'd worked for nine years as a technical and copywriter, a researcher, a script writer, always for a company before deciding to go out on my own.
I'd always wanted to be paid as a writer, a seed planted in, of all places, Germany, during the Vietnam War. After being drafted into the U.S. Army in January 1971 and training at Fort Polk, La., then Fort Meade, Md. (as a riot-control military policeman), I filled out my two-year stint with the headquarters company of the 503rd MP Company in Frankfurt.
While enjoying police duty at First Army Headquarters at Fort Meade – where I ticketed cars of illegally parked four-star generals, played dog-catcher, directed traffic (with my white MP gloves magically slowing thousands of speeding cars filled with employees going to work at the National Security Agency in nearby Laurel, Md.), chased AWOLs and guarded prisoners – the tasks at my German assignment were boring. Guarding gates on the perimeter of Drake Kaserne, standing at attention during retirement ceremonies for brass leaving the 3rd Armored Division (aka, Gen. Patton's famed "Third Herd"), and assisting local polizei at often-gory traffic accidents was simply dreadful.
When I heard that fellow Spec. 4 Daryl Bruischat was being discharged and heading home to Holland, Mich., to start what became an acclaimed career as an artist, I jumped at the chance to take his job. Daryl's sole responsibility was writing police reports for the commanding general. Nothing more, nothing less. This role let him skip the surprise midnight wake-up calls for "alerts" to escort massive M-60 tanks out into the countryside where they blasted away at trees and other objects. And Daryl didn't have to cope with the giant rats that often skittered between the legs of gate guards on the midnight shift.
Thankfully, I got his gig. So, every morning at 7:00 a.m. sharp – over a 13-month period – I delivered my daily report. Major General Kraft wanted to read about the illicit activities his 13,000 "boys" were up to the previous day while partaking of his morning coffee and donuts. Gathering up the reports at the Provost Marshal's Office at around 3:00 a.m., and using an old and decidedly unelectric Underwood typewriter, I typed up the original report and 16 carbon copies (copy machines apparently hadn't been invented yet) for distribution to various Division commanders. To this day, my wife can hear my loud typing throughout the house.
Upon being discharged in January 1973, I went to Billings, Mont., and worked at the Post Office while studying English at Eastern Montana College on the GI Bill. Having taken all the available English classes there, four years later I returned to my home state to finish my Creative Writing degree at the University of Washington. With a new wife and baby daughter now in tow, after graduation I took whatever writing job I could to further my budding career. While working full time, I even went without pay to moonlight as the managing editor of a new boating publication, where I gained valuable insights into color separations, design and layout, print processes, advertising, circulation and other magazine matters. I also toiled for various electronic firms (passing up the chance to be one of a young Microsoft's first tech writers as I didn't like to write about software) and did research papers for big outfits like Weyerhaeuser and Daishowa Corporation.
Once my second and current wife approved the idea, I began my golf-book travels in spring 1987.
The original concept was to walk, photograph and take notes while playing every course that qualified for the book's title (by that I mean, not just public, resort or private facilities, but every single golf course in the Pacific Northwest). I also sought to make the book "pure," therefore paying for golf rounds, food and accommodations to maintain editorial control. To cut costs, I outfitted our Volvo station wagon with boat curtains bought at Doc Freeman's marine-supply store so I could use the back end of the vehicle – a lemon that came to be known as the "Antichrist" – as my "hotel on wheels."
Though I never asked for free golf, other original criteria quickly vanished. I realized that if I tried to play every golf course, I likely never would finish the book in my lifetime. I made this decision soon after the adventure started. My first day of research involved leaving my sister's house in Vancouver, Wash., at 6:00 a.m. and driving to Elkhorn Valley in Lyons, Ore., roughly 70 miles away. I arrived at 8:00 a.m. at the course – rated then as among the top-five nine-holers in the U.S. by "Sports Illustrated" – before heading to my next stop at Tokatee east of Eugene. Unfortunately, I misread the map (Waze and Google Maps were not around then) and ventured east instead of back west to Interstate 5, a much shorter route. That miscalculation led to a very long drive and an arrival at Tokatee at 4:00 in the afternoon on the heels of a high-school tournament.
I played 18 holes – while schlepping my clubs, camera and notepad – at the beautiful, Ted Robinson-designed Tokatee. Completely exhausted and somewhat dazed after 27 holes of golf and 350 road miles, at around 8:30 p.m. I bore east to Bend with no idea of where I'd be spending the night. Under blackening skies, I pulled over at the only commercial concern in this remote area along the McKenzie River, Belknap Hot Springs, and asked the receptionist if I could sleep in its parking lot. In my car. After looking at me rather querulously, she replied, "Never heard of that one, but I guess it's okay. That'll be $8." Following a restless night with little to eat other than beef jerky and granola bars, I slogged on to Bend at daybreak.
From that point forward, I decided to take a cart as my Canon camera was heavy, and writing comments and observations in an unwieldy notebook while playing golf was, literally, a pain and very time-consuming. I also made a habit of bedding down in cut-rate hotels.
Lo and behold, following an ill-advised attempt to include massive British Columbia in the book, three years later I had a million-character manuscript. But rejections soon came from 13 publishers; all replied that golfers didn't comprise a big enough market to justify any-sized print run. Luckily, No. 14, Alaska Northwest Books, took a chance and signed me to my first book contract.
The publisher, then the region's largest, hired famed Seattle graphic designer Art Chantry to do a painting for the book cover – a knock-off of Ben Hogan's famed 1-iron finish at Merion with Mount Rainier juxtaposed in the background. Within six months, my book became the top seller among Alaska Northwest's 150 titles.
My trips never extended beyond four days. Regardless of the direction I took from Seattle – whether to the far reaches of western Montana or the vast wilds of eastern Oregon – I'd depart early Monday morning and be home for my family by Thursday evening or Friday morning. Some of these voyages within the book's 19 geographic regions/chapters extended over 2,200 miles and involved upwards of 30 golf facilities. I visited them all and played well over half of them (thanks to repeat visits). I also prepared all the book's specialized maps, overlaying upwards of seven, large Mylar sheets while hand-drawing and using press type to carefully incorporate the elements – climate, turf type, community nature, golf seasons, roads, etc. – that best represented each area's shared characteristics.
To make a long story short, I ended up with the rights to the book's second and third editions, and started my own publishing company. The third edition of "Golf Courses of the Pacific Northwest" (designed by my wife Anni and featuring a cover painting by our artist-friend Frank Gaffney) covers all the layouts in Washington, Oregon, western Montana, northern Idaho and Sun Valley. To this day, it remains the definitive golf guide for the region. It's quite clear that no one is insane enough to duplicate the effort. By then, I'd visited all the courses and saw every hole, shooting well over 2,000 color photos on that bulky Canon.
The courses ranged from very remote six-holers with sand greens to big-time resorts, busy munis, exclusive clubs and ultra-private layouts played only by their owners and friends. In all, I traveled – all on my own dime (gas and hotels were cheaper in those days) – a couple hundred thousand miles by the time the third edition (which, sadly, is no longer in print) came out.
Ever since that original idea came up, I've delved deeper into golf, becoming the managing editor of "Back Nine" (where my "Making the Rounds" first appeared in 1988) and "Golfing the West" magazines. I started "Golf Report Northwest," a golf-project tracking report that later morphed into the national and online golfconstructionnews.com when I took a 15-year break from books to work for Cybergolf.com. There, I oversaw a large freelance staff and wrote, edited and/or posted over 16,000 stories. I also co-founded the Northwest Golf Media Association; served as Media Director of the Fred Couples Invitational; co-authored (with British Columbia historian Mike Riste), edited and published "Championships & Friendships: The First 100 Years of the Pacific Northwest Golf Association." In all, I've written and/or edited and published nine books, five about golf.
So, with this rambling preamble out of the way, my next installments of "Making the Rounds" will venture into some of the wild, woolly and indelibly memorable moments while on the road or on a golf course. I hope you'll enjoy the ride as much as I did. (This is the opening story of Jeff's new column for Golf Course Trades, a publication that goes to golf course superintendents around the U.S.)
Jeff Shelley has written and published nine books as well as numerous articles for print and online media over the past 30+ years. The Seattle resident is a co-founder of the Northwest Golf Media Association.
Stephens Receives NWGMA's 2018 Distinguished Service Award
In a very close ballot, members named Dick Stephens as the recipient of the Northwest Golf Media Association's 2018 Distinguished Award. Stephens accepted his award during a ceremony on October 1 at the NWGMA's annual Tournament-Banquet. This year's event was held at historic Bellingham Golf & Country Club.
Stephens is a veteran writer, editor, publisher and business owner in Northwest golf circles. He started out as the editor of Northwest Golf magazine. Later, as President of Varsity Communications, Dick was a driving force in the creation of both Pacific Northwest Golfer (produced by Varsity on behalf of the PNGA) and Cascade Golfer (owned and produced by Varsity). The region's two largest golf magazines have a combined reach of over 200,000 golfers throughout the Northwest.
Dick also helped launch the Seattle Golf Show, of which Varsity was the original co-producer with the PNGA (and which was recently re-purchased by Varsity in 2017). Varsity also owns the Portland Golf Show (combined, the region's two largest golf expos draw roughly 20,000 golfers a year). In addition, Varsity assisted in the publication of Jeff Shelley and Michael Riste's influential book, Championships and Friendships: The First 100 Years of the Pacific Northwest Golf Association. It also produced the Merrill Lynch Invitational, which brought PGA and LPGA Tour greats to the Golf Club at Newcastle and TPC Snoqualmie Ridge for 13 years, from 1991-2003.
"What has always struck me about Dick Stevens, this year's worthy winner of the NWGMA's Distinguished Service Award, are his equal parts of passion and vision," said NWGMA president, Bob Sherwin. "It takes both to be the force behind starting golf magazines and golf shows where there is no guarantee of success and where others have failed. But his ability to hire correctly, to find just the right niche and provide the essential content is a tribute to his vision. Congratulations Dick."
The NWGMA is a nonprofit organization established in 1995. It focuses on the best interests of the game of golf in the Pacific Northwest with the assistance of individuals in the Northwest media.
For more information and a list of previous NWGMA Distinguished Service Award recipients, visit www.nwgma.org.
For media inquiries, contact Jeff Shelley at 206/522-6981 or jeff@fairgreenspublishing.com.
Silvies Ranch is one of a kind
SENECA, Or. -- It's as hard to imagine as it is to describe the design concept for one of America's most unique new golf courses, the Retreat and Links at Silvies Valley Ranch in the high-desert isolation of Frontier Oregon.
It's reversible. You can play it both ways, tee to green, green to tee. Two different courses; same terrain.
Craig Smith inducted into WIAA Hall of Fame
Craig Smith, a breathing encyclopedia of sports knowledge, was recently inducted into the Washington Interscholastic Activities Association's Hall of Fame. The former Seattle Times reporter and recipient of the NWGMA's prestigious "Distinguished Service Award" in 2009, produced the popular "Sideline Smitty" column about high-school sports where he'd provide trivia and answers to reader questions.
Smith retired in 2008, spending three decades covering everything from golf and hydroplanes to the Seahawks.
"As a sports writer, I have found prep sports to be fresher, more fun, often more interesting, and, in their own way, more important, than college or professional sports," Smith wrote in his final column. "I remember what Washington State basketball coach Dick Bennett once said: 'High-school coaches are most important because they can do the most good.'"
Bandon Dunes replaces Chambers Bay for 2019 U.S. Amateur Four-Ball
FAR HILLS, N.J. – The United States Golf Association today announced that the 2019 U.S. Amateur Four-Ball Championship will be relocated from Chambers Bay in University Place, Wash., to Bandon Dunes Golf Resort in Bandon, Ore., to accommodate a turfgrass transition project at Chambers Bay.
"The USGA is extremely grateful to owner Mike Keiser and Bandon Dunes, a trusted supporter of amateur golf, for agreeing to host the 2019 U.S. Amateur Four-Ball while this work occurs at Chambers Bay," said John Bodenhamer, the USGA's senior managing director of Championships and Governance. "We also acknowledge the foresight and initiative of everyone at Chambers Bay in undertaking this work."
The ongoing turfgrass project, which will transition the putting surfaces at Chambers Bay from fescue to Poa annua grass, will provide long-term benefits to the facility, which is an important asset to the community and region, according to Matt Allen, general manager of Chambers Bay. The course hosted the 2015 U.S. Open and is owned by Pierce County and operated by KemperSports.
The 2019 U.S. Amateur Four-Ball Championship will be contested May 25-29. The U.S. Amateur Four-Ball consists of 128 two-player sides and requires two courses for the stroke-play portion of the championship. The specific courses at Bandon Dunes that will be used for the 2019 U.S. Amateur Four-Ball will be announced at a later date.
Chambers Bay will now host the 2021 U.S. Amateur Four-Ball Championship from May 22-26. The Home Course in DuPont, Wash., will serve as the stroke-play co-host for the 2021 U.S. Amateur Four-Ball.
"Both of these sites are excellent championship venues and are unwavering in their support of amateur golf; they offer the USGA an opportunity to continue to conduct exemplary Four-Ball championships while providing an ultimate test for the players," said Bodenhamer. "In addition, both of these Pacific Northwest communities have always offered a warm welcome to the USGA, its championships and the competitors."
Previously, Chambers Bay was the site of the 2010 U.S. Amateur and 2015 U.S. Open Championships, while Bandon Dunes has hosted the 2006 Curtis Cup Match, the 2007 U.S. Mid-Amateur, the concurrent U.S. Women's Amateur Public Links and U.S. Amateur Public Links Championships in 2011 and the inaugural U.S. Women's Amateur Four-Ball Championship in 2015. Bandon Dunes is also scheduled to host the 2020 U.S. Amateur Championship, which marks seven USGA championships hosted in 15 years.