September 2017
S
M
T
W
T
F
S
1
2
3
4
5
6
7
8
9
10
11
12
13
14
15
16
17
18
19
20
21
22
23
24
25
26
27
28
29
30
About the NWGMA
The Northwest Golf Media Association was founded in 1995 by and for people who write, edit, discuss, produce and otherwise impart golf-related articles, books, columns for newspapers, magazines, television, radio, internet, social media and all other forms of communication. The nonprofit organization was originated to assist in the collaboration of efforts of the working media who cover golf in the region.
The NWGMA seeks to bring attention to the region's golf heritage, and it hopes everyone in the media gives golf equal status with other sports. It also strives to educate the community about all facets of the golf industry and what each entity brings to the game of golf. Its members facilitate this by creating a network among colleagues for sharing story ideas and creating a community for discussing and disseminating Northwest golf news.
NWGMA Mission Statement
The Northwest Golf Media Association shall focus on the best interests of the game of golf in the Pacific Northwest with the assistance of individuals in the Northwest golf media.
---
From the News Room
Tony Dear to Receive NWGMA Distinguished Service Award
September 14, 2017. Tony Dear is the 2017 recipient of the Northwest Golf Media Association's Distinguished Service Award. Voted on by members, the honor is given annually to an individual who has made significant contributions during their careers to promote golf in the Pacific Northwest.
ear is a 46-year-old who lives in Bellingham, Wash., with his wife and two children. He was born in England and moved to the U.S. in 2001. He played on the Liverpool University golf team, and was a PGA apprentice pro at a club about an hour south of London. He was a senior editor at Today's Golfer in England, before moving to the U.S.
Dear has been writing about golf for 24 years. From 2003-08, he was the golf correspondent for the New York Sun. He's had bylines in over 40 publications worldwide, and written five golf books.
He has received 25 writing awards from the International Network of Golf (ING), and two award nominations from the Golf Writers Association of America (GWAA).
In Washington State, Dear was a regular contributor to Cybergolf.com for 12 years, and now writes for Cascade Golfer, Pacific Northwest Golfer and Golf Today NW. Outside of Washington, he contributes to Colorado AvidGolfer and Links Magazine, a national publication.

Besides writing, Dear led the First Tee of Whatcom County for a year in 2014. He is currently coach of the Bellingham High School boy's golf team.

Dear will receive his award at the annual NWGMA Tournament-Banquet on September 25. During this year's event at historic Fircrest Golf Club in Tacoma, University of Washingtonsenior-to-be Jack Russillo will also receive the annual NWGMA Scholarship.
The NWGMA is a nonprofit organization established in 1995. It focuses on the best interests of the game of golf in the Pacific Northwest with the assistance of individuals in the Northwest media.
For more information and a list of previous NWGMA Distinguished Service Award recipients, visithttp://nwgma.org/-distinguished-service-award.
UW student awarded NWGMA scholarship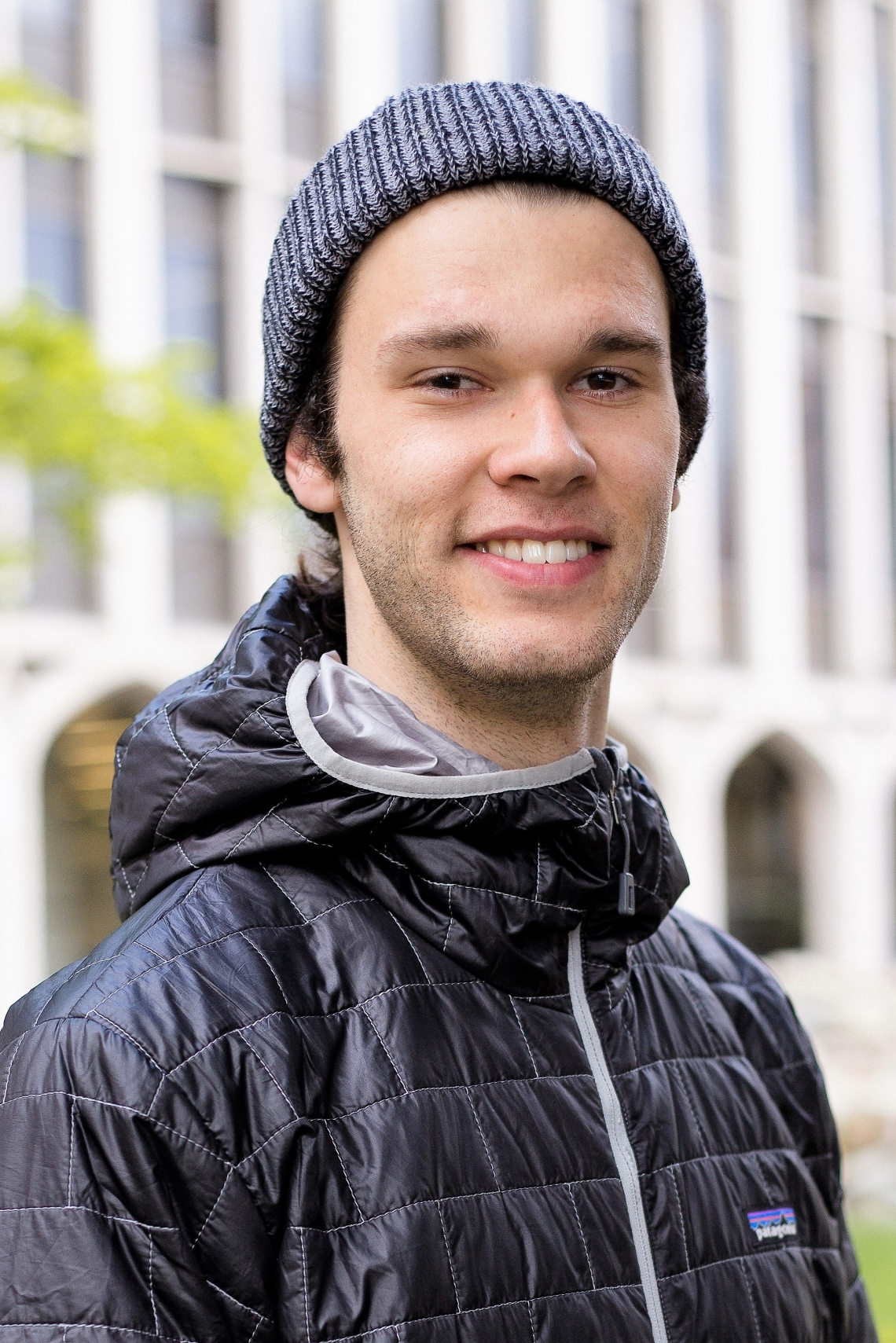 Jack Russillo, a senior at the University of Washington, has been awarded the Northwest Golf Media Association's college scholarship. He will be honored at the NWGMA's annual year-end banquet Monday, Sept. 25 at Fircrest Golf Club in University Place.
Russillo has gathered a wealth of journalism experience that dates back to his high school years. He began his writing career working for his hometown newspaper, the Orcas Island's Sounder, covering high school sports.
He then moved on to UDub and immediately began reporting for The Daily, the campus student newspaper. During his freshman year, he was fortunate to cover the crew teams and witnessed the record-setting fifth straight national title for the UW men's crew team. He has also covered women's soccer, the men's and women's basketball teams as well as the UW football team.
This wealth and diversity of experience has opened doors for Rusillo as he has also written for the Seattle Times, covering the UW football teams epic 2016 season, as well as stories for The Mountaineers, Seattle Met Magazine, and Northwest Travel and Life.
Outside of his commitment to writing, Russillo is on his way to a double major in International Studies and Communications (with a focus in Journalism) and has a GPA of 3.58. In his leisure time, he follows his passions of trail running, rock climbing, and mountaineering.
Congratulations to Jack.
-- John Hughes
NWGMA scholarship chairman
Winco Food Portland Open Media Day Wrap Up
By Alfie Lau
It was a spectacularly sunny Monday in North Plains, OR, just outside of Portland and the excitement is building for the 2017 Winco Food Portland Open at Pumpkin Ridge from Aug. 24-27.
Organizers Lagerdere Sports put on another stunning Media Day, not only with a great slider lunch, made-to-order pasta dinner, and host beverages all day, but they brought in one of Oregon's favoured sons, former University of Oregon and 2016 NCAA Men's golf champion Aaron Wise, for an illuminating question-and-answer.
Lagerdere's Jeff Sanders had a nice sit-down with Wise, as the Cape Town-born golfer talked about his rise from university golf to the Mackenzie Tour (PGA Tour Canada) and then the Web.com Tour, where he won the Air Capital Classic earlier this year and guaranteed a top-25 finish on the tour which automatically elevates him to the PGA Tour come October.
And while Wise is going to the PGA Tour, there's still a lot to play for when he tees it up at Pumpkin Ridge's Witch Hollow course because with a $144,000 top prize, that could move Wise up the money list and give him more security on the PGA Tour. Wise is scheduled to play the first event of the 2017-18 PGA Tour, the Safeway Open in Napa, CA, which is an event that Lagerdere also organizes.
Sanders was also able to announce that $1.25 million was raised from last year's Winco Foods Portland Open, taking the total raised since 2014 to $3.1 million. And with 2017 ticket sales already ahead of projections, that number looks set to rise even higher.
As for the course, the Witch Hollow course at Pumpkin Ridge was in immaculate condition, with greens rolling fast and true and fairways as soft as a carpet. The winning score for the fun competition was a sparkling -14 score of 58, with -12 60 taking second place and -10 62 taking third. There were also KP competitions on the 5th and 12th holes, with prizing for each hole for each of the four sets of tees. As an aside, NWGMA secretary (yours truly) Alfie Lau won the fifth hole white tees KP with a shot that finished just 18 inches from the hole.
Tournament tickets are only $10 per day and $25 for a full-week pass. Winco has committed a full 100 per cent of all ticket sales to local charities. Some fun events taking place during the week include the Grove, located on the par-3 12th hole which will feature free craft beer samples from some of the region's finest breweries. There's also a free breakfast on Sunday morning, courtesy of General Mills. And there's also music and entertainment all week, with some big name acts soon to be announced. For more information on the tournament, go to
www.WinCoGolf.com
2017 Boeing Classic Media Day Recap
By Alfie Lau
A beautiful sunny Monday, July 24 at the newly named The Club at Snoqualmie Ridge was the site of the 2017 Boeing Classic Media Day. The tournament, held since 2005, is being held Aug. 21-27 and this media event is starting to create a buzz about the best 50-and-older Champions Tour regulars who will be coming to the course formerly known as a TPC course.
New tournament director Brian Flajole said more than $600,000 was raised in 2016 for the tournament's flagship charity, the Benaroya Research Institute at Virginia Mason and that's all part of the organizers' plans to make the Boeing Classic "the premier Champions Tour event."
Some of the key players who have committed to this year's Boeing Classic include multiple Major winner Vijay Singh, defending Boeing champion Bernhard Langer and well-loved veterans such as Jose Maria Olazabal, Rocco Mediate and Colin Montgomerie.
As for the key Pacific Northwest golfer of his and this generation, Flajole said he is still hopeful Fred Couples will play this year's Boeing Classic, but that will depend on Couples' back holding up. Flajole did say that Couples has told him it is his goal to win the Boeing Classic at some point in his career.
Other key events during the tournament include the annual Seahawks Rumble at The Ridge on Monday, Aug. 21, along with the traditional Boeing Classic flyover on Aug. 25, just prior to the opening shots being hit in the tournament.This year's flyover will also honour Arnold Palmer, who passed away last September.
As for the name change, while the course is no longer a TPC course, it has given members at Snoqualmie Ridge more flexibility and that has meant the course now has more than four miles of drainage.
For the tournament, the rough level will come in around 2.75 inches, with green speeds expected to be in the 12 to 12.5 range on the Stimpmeter.
Additional food and beverage options include Ivar's famous seafood and Chateau Ste Michelle offering its award winning wines.
While media and honoured guests and sponsors played the course on Monday morning, there were $100 prizes for a couple closest to the pins and one long drive. NWGMA members who won prizes include Curtis Crabtree and Jim Moore.
Media members wishing to be credentialled for the Boeing Classic can go to
www.PGATourMedia.com
and submit an application before Aug. 20.